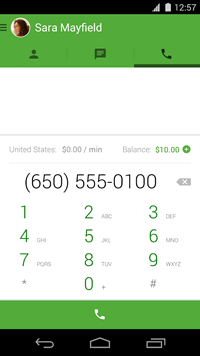 Google has just announced better integration between Google Voice and their Google Hangouts smartphone app. Both iOS and Android apps can now make domestic and international calls through a Wi-Fi or data connection (like 4G). You can also receive calls if you have a Google Voice number. Calls to the U.S. and Canada are currently provided by Google free of charge from all countries where Hangouts calling is available.
What does this mean exactly?
For the frugal minimalist, as long as you have a data connection like WiFi, you can now make and receive unlimited domestic voice calls using a basic Apple or Android device. You can pay for a cheap prepaid option as a backup, or simply go without any cellular plan. You can also use voice over data to complement T-Mobile's $30 plan which offers 5 GB of 4G data but only 100 voice minutes (this plan isn't heavily-advertised, but scroll down and you'll find it).
For the international traveler, as long as you have WiFi in a supported country you can call back home to the US for free using your phone. No foreign SIM card or even Skype account required.
For the international caller, you can more easily use Google Voice's discounted calling rates which have recently been lowered again. For example, rates to India (mobile or landline) and Mexico (landline) are only 1 cent a minute.
iPhone / Apple iOS. Download the Google Hangouts app and the calling functionality is built-in.
Android. Download both the Google Hangouts app and the Hangouts Dialer app. If you need help, here are directions straight from Google: Make calls with Hangouts on Android.
SMS text message support is also supposedly coming, first to Android devices "in the next few days" and then to iOS devices "soon".