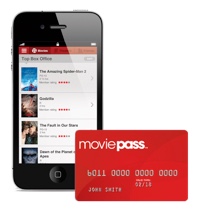 Moviepass recently slashed their prices for unlimited in-theater movies (one per day) to only $9.95 per month. Here how it works in practical terms:
You are limited to one 2-D movie per day. You can watch first-run movies on opening day. No 3D. No IMAX.
This service is not affiliated with any specific movie chain. You can use the official Moviepass website (scroll to bottom) or this handy-but-unofficial locator to see eligible theaters.
You must download and use the service through the Moviepass smartphone app (Android and iOS). You can't use Fandango or other 3rd-party service.
You must be within 100 yards of the theater (tracked by GPS via phone app) before you can redeem your free ticket for the day. This helps prevent you from sharing your subscription. If you want to reserve seats, you should get to the theater area early.
Once you check-in via the app, the appropriate funds will be loaded onto a your personalized Moviepass Mastercard debit card. You then use that specific debit card to pay for the ticket (at kiosk or ticket counter).
There is no contract.
My take? I don't see how this is a sustainable business model. MoviePass is paying full price for the movies (not even some sort of wholesale discount). MoviePass must be hoping that a lot of casual people sign up and then forget to watch movies some months? I don't think it's a coincidence that they wait until after the summer movie season to announce this. I am skeptical that they can monetize the group data enough to cover their costs.
AMC doesn't like Moviepass but since the are just using a normal debit card to pay full price, I don't see how they can stop the service.
Bottom line. The service seems legit in that they've been in business since 2011 and the CEO is one of the co-founders of Netflix and former Redbox executive. However, I still see a late "pivot" for a wobbly startup. Watch a bunch of movies in the next few months if you can, but don't be surprised if your Moviepass card suddenly stops working.