In case you haven't been paying attention, mortgage rates are still dropping to new lows. Here's a chart of the historical mortgage rate averages since I bought my house in late 2007, courtesy of HSH.com. It includes the 30-year fixed, 15-year fixed, and the 5/1 30-year adjustable.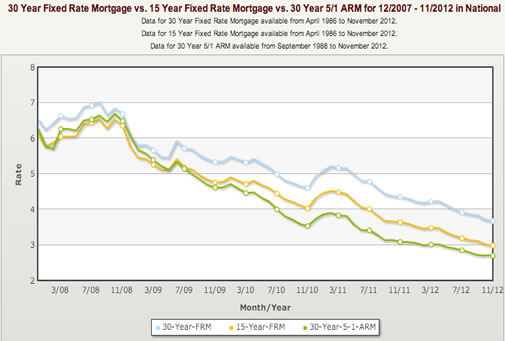 From looking up some quotes (see below), 30-year fixed rates are ~3.125% now (~3.5% with no closing costs), and 15-year fixed rates are ~2.5% (~2.875% with no closing costs). Can you honestly say that you would have expected this 10 years ago? Another example of the difficulty of predicting the future.
If you haven't refinanced in a while, it is definitely worth a try to see how much you could save a month. But what are you going to do with that savings? Buy more stuff that you don't need? Buy more house that you don't need? Why not consider refinancing into a 15-year mortgage and have that house paid off much sooner? From this CNN Money article using recent average rates:
Homeowners current paying off 30-year loans with rates of 4% spend about $1,098 a month in mortgage payments on a $200,000 balance, paying a total interest cost of $143,739. Refinancing at 2.63% for 15 years would cost them about $250 a month more, but they would wind up paying just $42,250 in total interest and their payments would end years earlier. Refinancing into another 30-year loan at 3.31% would cost homeowners only $877 a month, saving $221 from the existing loan.
If were to give advice to my future kids, it would be to determine home affordability only using the 15-year mortgage. Just forget the 30-year exists. You'll be forced to budget properly and if you buy a house at age 30 you'll be mortgage-free by 45! I think they would thank me in the end. I can still tell them their old man paid his off at 35, of course. 😉
Compare with rate quotes from:
I hear that Costco provides a mortgage refinance referral service now as well – any real-world experience with them from readers?
Recent mortgage refinance articles: