If you haven't heard already, several large credit card issuers (Chase, Washington Mutual, Citibank, Capital One, HSBC) are currently closing millions of consumers' credit cards without prior warning due to inactivity. This is their legal right, but it can also negatively affect your credit score. Here's why and some steps that you can do about it:
How Can Closed Credit Cards Affect My Credit Score?
FICO has previously revealed the following breakdown of factors considered in credit scoring. We can also read between the lines of the questions asked by the free FICO Score Estimator by myFICO.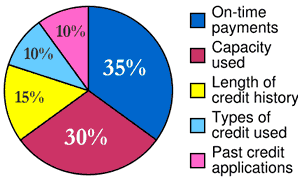 Capacity used. This simply means how much of your available credit you are using, sometimes referred to as utilization ratio. A lower ratio is better, either by lower balances or higher credit limits. If you're maxed out on all your cards, obviously that's not a good sign. Logically, closing credit cards means you have less available credit.
Length of credit history and past credit applications. To be specific, not the only length of your oldest line, but also the average age of all your accounts matters. In addition, you'll have less need for new credit applications if you can keep your existing purchasing power.
Closed by creditor or consumer? A lesser concern is whether the account is marked as "closed by creditor" as opposed to "closed at consumer's request". Since FICO doesn't release the details of their scoring algorithm, it is still debated whether this matters to the numeric score. Some credit repair experts say it does, others disagree. However, if someone does a manual review of your credit report, it can raise some questions as to why the account was closed by the lender.
How To Protect Your Credit Score
Okay, so we've established that just waiting for our inactive cards to be canceled can be bad. So what should we do about it? Here's an action plan:
Gather up or make a list of all your credit cards. I have mine in a spreadsheet – it is a pretty long list! Misplaced some? Grab your free report from the official AnnualCreditReport.com, which should list them all.
Rank them according to importance to your credit score. From above, we see that credit cards with high limits and long histories are the best. Newer credit cards with low limits are least important.
Start using the important ones! If you have a cell phone or cable bill, chances are that they accept credit cards. Not only that, but you can use multiple charges across multiple cards. I spent 20 minutes just charging $5-$10 to my Sprint bill across about 8 different cards to put some activity on them. Start from the most important card onwards.
Consider canceling the rest. If you have a newer card with a low limit that you don't ever plan on using again (just wanted the sign-up bonus?), it may actually help your score to simply cancel it. This way, it will also show as "closed by consumer".

Make sure that it has a zero balance first, otherwise you make be stuck with penalties or your credit limit will be lowered to your balance amount, jacking up your utilization percentage and hurting your score.
I was too late for two Chase accounts and one Washington Mutual account I mentioned before, but I ended up closing a few cards preemptively and put some activity on the rest. All in all, perhaps this worked out for the best. Don't we all want less clutter for the new year? 🙂