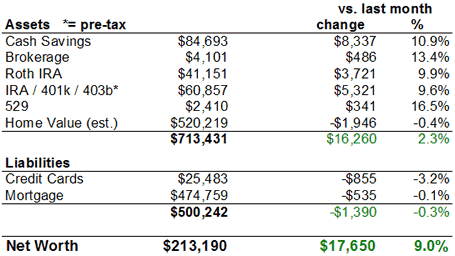 Credit Card Debt
I have no actual consumer debt. In the past, I have been taking money from credit cards at 0% APR and immediately placing it into high-yield savings accounts or similar safe investments that earn 5% interest or more, and keeping the difference as profit. I even put together a series of step-by-step posts on how I make money off of credit cards this way. However, given the current lack of no fee 0% APR credit card offers, I haven't been as active with this recently.
Retirement and Brokerage accounts
The value of our passively-managed portfolio bounced back by about 10% compared to last month. There were no new contributions. As noted, we did manage to max out both of our 401(k)s this year, and plan on making 2008 IRA contributions by the April deadline.
Cash Savings and Emergency Funds
Our emergency fund balance is nearly at 12 months of our total monthly expenses. So theoretically both my wife and I could be laid off and we would be okay for 12 months without having to sell any longer-term investments. I am very happy with this cash cushion.
Where is it? I suppose you could say I "actively manage" my cash, putting it in various places to maximize yield while maintaining the highest possible safety. For example, I have some in a previous WT Direct promo at over 6% annualized interest, some in Series I Savings Bonds at over 6%, and a chunk at a WaMu 12-month CD paying 5% APY with about 10 months remaining.
Compare this to the piddly 0.14% for 90-day T-Bills and 0.43% on 1-year Treasuries! If you didn't get in on any or all of these, keep reading or subscribe to updates for new deals as they come up.
Home Equity
I continue to estimate our home value using internet tools, starting with the average estimates provided by Zillow, Cyberhomes, Coldwell Banker, and Bank of America. This left me with $584,516. Then, I shave off 5% to be conservative and subtract 6% for expected real estate agent commissions (11% total) to reach my final estimate. Fortunately, we bought as prices were falling already, and the area where we live has not been hit nearly as bad as other major metropolitan areas.
Looking ahead, I am working on new goals for 2009, and also better metrics for measuring our financial progress. You can see our previous net worth updates here.