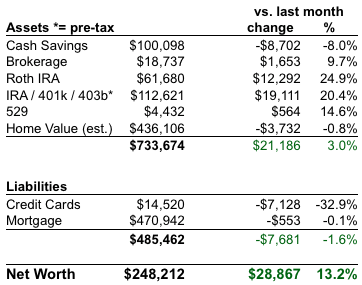 Credit Card Debt
For newer readers, I have taken money from credit cards at 0% APR and placed it into online savings accounts, bank CDs, or savings bonds that earn 4-5% interest (much less recently), and keeping the difference as profit. I even put together a series of step-by-step posts on how to make money off of credit cards in this way. However, given the current lack of great no fee 0% APR balance transfer offers, I am mostly waiting on existing offers to end. I just paid off a large-ish balance this month.
Retirement and Brokerage accounts
Besides watching another market rally, we made a bunch of retirement contributions this month. Wife's 401k is now maxed out at $16,500 for 2009. I made a $5,000 contribution to my Solo 401k. This makes us about 65% done with our goal of maxing out both our 401ks for 2009.
Early in the month, I also decided to go ahead and make our IRA contributions for 2009 (non-deductible due to income limits). So that's another $10,000.
Cash Savings and Emergency Funds
We still have a little over a year's worth of expenses in our emergency fund. I was supposed to use up some of the cash to make a principal prepayment this month, but didn't do it due to a variety of reasons. Mainly, I wanted to do things in order and do the retirement contributions above first. We also found that we have a roof leak that may require some cash.
In addition, we have gotten some quotes on a solar hot-water system for the house, which seems like it would have a fast payback period of 2-3 years. A photovoltaic system would cost significantly more and have a payback period of around 8-9 years depending on size. Still researching this.
Home Equity
Using four different internet valuation tools – Zillow, Cyberhomes, Coldwell Banker, and Bank of America (old version) – I again took the average and took off 5% to be conservative and 6% for real estate agent commissions. The bloodshed slowed a bit this month. 🙂
All in all, more steady progress. I feel like I'm not learning a lot from these updates, but it seems to be a good habit to keep an eye on things.