(This is the second in my series of Model Portfolio Comparisons.)
This next portfolio comes from The Boglehead's Guide To Investing by Larimore, Lindauer, and LeBoeuf. Taylor Larimore and Mel Lindauer are frequent and respected contributors at the Vanguard Diehards Forum. While obviously they are Bogle fans, they do present their own views on things. Four different model portfolios are given, but I will focus only on two of them.
Young Investor Model Portfolio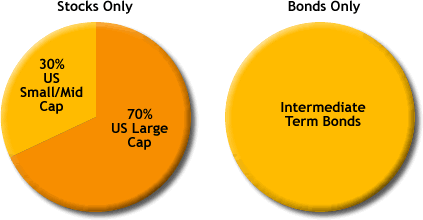 Asset Allocation for 80% Stocks/20% Bonds
55% Domestic Large Cap Stocks
25% Domestic Mid/Small Cap Stocks
20% Intermediate-Term Bonds
The domestic stock component of 70% Large and 30% Mid/Small Cap is actually how the entire U.S. stock market is broken down on a cap-weighted basis. Thus, you only need one US Total Market fund to cover both.
Investor in Early Retirement Model Portfolio
30% Diversified Domestic Stocks
10% Diversified International Stocks
30% Intermediate-Term Bonds
30% US Inflation-Protected Securities, or TIPs
The other two portfolios are for the Middle Aged Investor (30% US Large-Cap, 15% US Mid/Small-Cap, 10% International, 5% REITs, 20% Intermediate-Term Bonds, and 20% TIPs) and the Late Retirement Investor (20% Diversified Domestic, 40% Short/Intermediate-Term Bonds, 40% TIPs).
Overall, another simple but diversified portfolio – easy to build, easy to maintain. The risk profile is adjusted with age, going from more aggressive to less so with time. There is not very much international exposure.