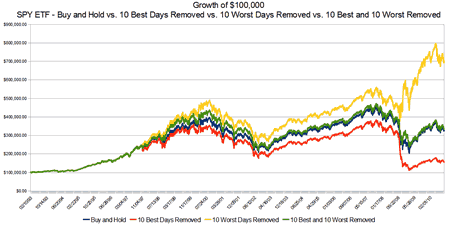 (Click to enlarge.)
Using the SPDR S&P 500 ETF to represent the S&P 500 stock market since the ETF inception in 1993, the chart above shows the effect of:
Blue: Holding the entire time. "Buy & Hold"
Red: Missing the 10 best days only.
Yellow: Missing the 10 worst days only.
Green: Missing both the 10 worst days and the 10 best days.
I found this via TheBigPicture, but disagree with the idea that you should try to find out how to miss the 10 worst days avoid the worst days in general. [Edit: See comments for more.] I see no evidence at all that anyone has the ability to predict/avoid the best or worst days ahead of time.
I also don't agree with the idea that this supports Buy & Hold because you don't want to miss the 10 best days. Again, if you miss the 10 best, you're likely to be missing the 10 worst. It works both ways.
The fact that you end up with more money by missing the 10 worst days and less money by missing the 10 best days simply gets a "duh" reaction from me. The bigger divergence recently just reaffirms that prices have been a lot more volatile in the last couple of years.
Instead, the focus should be on that fact that if you take out both the 10 worst days and the 10 best days, you'll basically do just as fine as buy & hold. Stock market investing is chaotic and tough on the stomach if you watch all the swings. If you take out the swings, you still get the same results! But you can't in reality take out the swings, so the best thing is to try and ignore them.
I don't want to spend my life competing against Wall Street whiz kids and supercomputer trading algorithms, so I just invest passively with rock-bottom costs. Work on your career or build a business… put your energy into something in which you have more control.