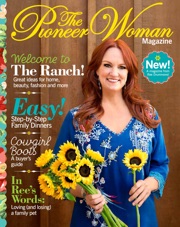 I hope that everyone had a boring Labor Day weekend! I say that because boredom is a magical thing, especially when left untreated with a computer/TV/smartphone screen. I had a lovely quiet afternoon where I sorted out a big box of old electronics, and my mental wanderings inspired me to make some important changes in my daily schedule.
It turns out that Ree Drummond understands. Now, I'm more of a Barefoot Contessa fan myself, but the Pioneer Woman brand has grown into an empire. TV show, magazine, cookbooks, and I'm sure some sort of branded kitchenware. You're not a real food celebrity until you have kitchen towels and cutlery with your name on it. Let's see… Check and check!
I just stumbled upon this older New Yorker magazine profile, which revealed the origin story. Before that, she was a stay-at-home-mom that got pregnant on her honeymoon and continued to have four children. Then one day…
One morning in May, 2006, eleven years after Drummond arrived in the country, Ladd announced that he was taking all four kids, including one-year-old Todd, who would sit in the saddle with him, to work cattle. "He said, 'You stay home and take time for yourself,' " Drummond recalls. "It was literally the first time I had been alone in the house for a several-hour period." Usually, when she had a free moment, Drummond hopped on a homeschooling message board, which she frequented for adult interaction. But that day she decided "to start one of those blog things." She had read only one blog, Doc's Sunrise Rants, written by a homeschooling single lesbian mother of triplets in Oregon. But she thought it seemed like a fun, efficient method of keeping in touch with her mother, who had divorced her father and moved to Tennessee.
This struck a chord with me because it was similar to how this blog got started. My wife and I had just gotten married and moved to Portland, Oregon for her new job. I managed to get a remote working position, but that meant that there was no longer a nearby office for me to visit each day. I no longer had a desk. There I was, in a brand new city with no friends, no co-workers, and a wife that worked 60-80 hours a week. I became bored out of my mind! I also decided to start "one of those blog things", which led to other related businesses, and so on.
Now, I don't have a global media/cutlery empire, but I still think that boredom can be a powerful thing. According to this Wired article, academic research agrees. When you are in a constant state of stress, when you are constantly putting out fires (or changing diapers), all you are doing is reacting. Occasional, extended boredom gives space for your creativity to grow. When was the last time you really let yourself get bored?

Comic source: XKCD