(Updated. Lending Club ended their first day of trading at $23.43 a share, up 57% from their IPO price. With roughly 361 million outstanding shares, LC is roughly a $8.5 billion dollar company! I have updated the post to include the rest of the IPO documents and process. I ended up selling my 100 shares for roughly a $800 gain during the first day of trading. Details and rationale below.)
LendingClub connects individual borrowers with individual lenders, and I've been writing about them since 2007. They successfully had their IPO on Thursday, December 11th, 2014 and they actually set aside a few shares for individual investors. Usually you'd either need serious cash or insider access. If you were an investor at LC by 9/30/14 you should have gotten an e-mail asking if you were interested.
I participated in this IPO for a few reasons:
I've been a lender on LendingClub since 2007 and have been following their progress since.
I have never participated in an IPO before, and am curious about the process.
I view this investment as purely speculative. It is not an investment, it is a gamble!
I can commit as little as $250 and up to about $5,000 (details below). I can choose a number that will keep my interest but it won't break the bank either way.
I've documented the process below:
11/17/2014. I got an e-mail with the subject "Lending Club IPO – Directed Share Program (DSP)" telling me that I was eligible to participate and that I had to opt-in to sharing my information with Fidelity Investments. Here is a screenshot: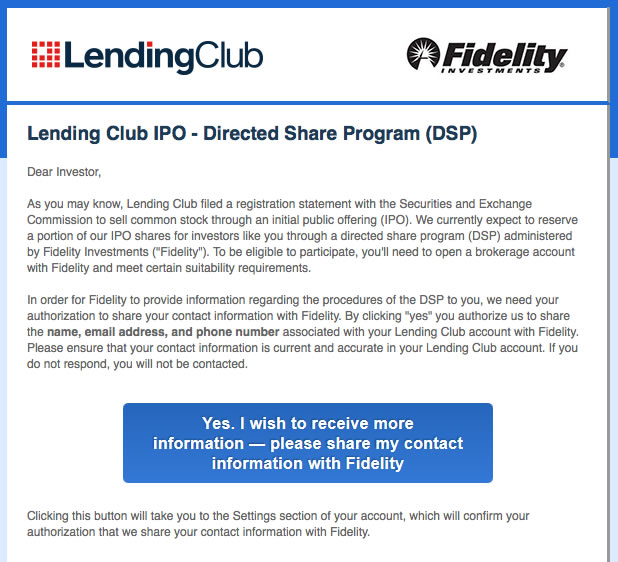 I clicked, and then was instructed to wait. (More below)

11/22/2014. I got another e-mail with the subject "LendingClub Corporation Directed Share Program – Notification of Eligibility" telling me that I had to open a new brokerage account with Fidelity to be eligible for this IPO.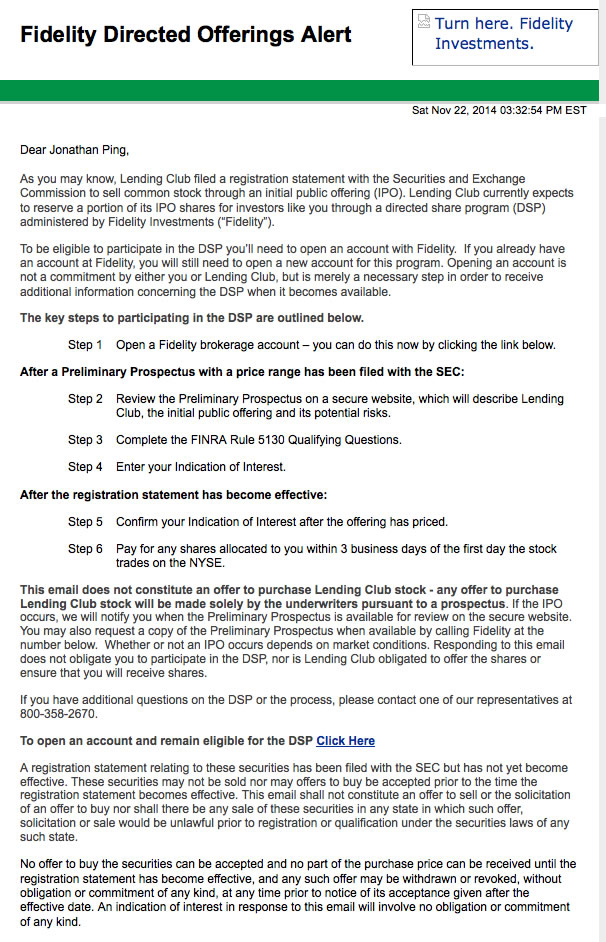 Since I already had a Solo 401(k) and an existing taxable brokerage account with Fidelity, the process only took a few minutes and was completely online. More waiting…
12/2/2014. Another e-mail arrived with the subject "LendingClub Corporation Directed Share Program" with more details. The estimated price range for the IPO was $10 to $12 a share. I would be able to commit to a minimum of 25 shares and a maximum of 350 shares in 25 share increments. So that would mean an estimated range of $250 to $4,200. Not serious money, but still an nice gesture towards their customers.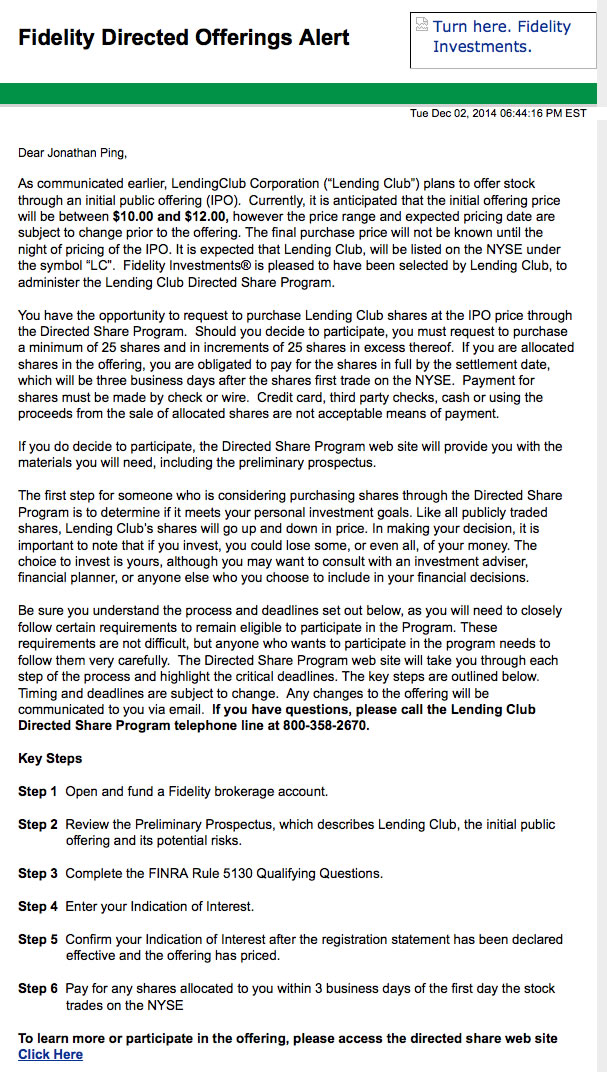 I was also able to review the Preliminary Prospectus, complete the qualification questionnaire, and confirmed my indication of interest. A lot of the prospectus had to do with the mechanics of LendingClub and how they make their money; I was already familiar with that. Is roughly $6 billion a fair valuation? Their revenue all depends on the future loan volume growth. If they can get more and more people with credit card debt to refinance into a lower-interest loan with LendingClub, they'll be set. The demand for loans from Wall Street and institutional investors is definitely there.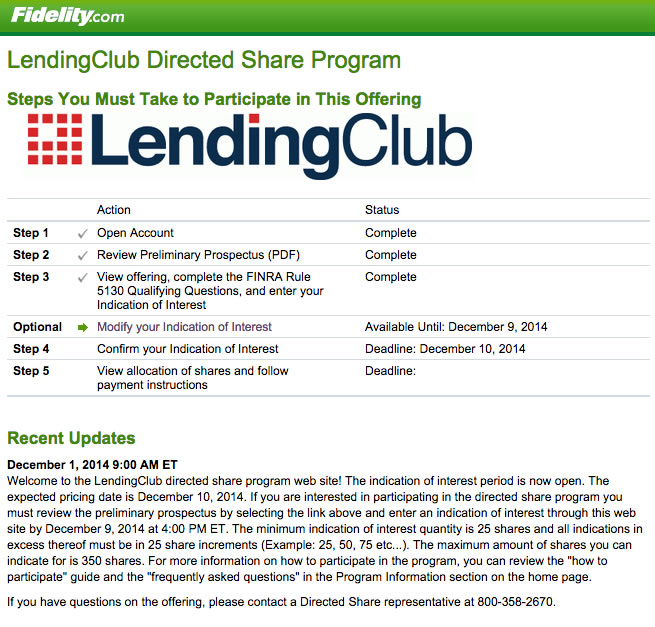 I indicated interest for maximum 350 shares. I don't even know if I'll even get that many. I funded my account already; this is essentially money that used to be invested in LendingClub loans. It looks like I'll have to come back on December 10th to confirm everything and see if they updated the expected share price and share availability.
12/8/2014. I received an update that the estimated range was increased to between $12 and $14. Seems like there is some decent buzz around this IPO.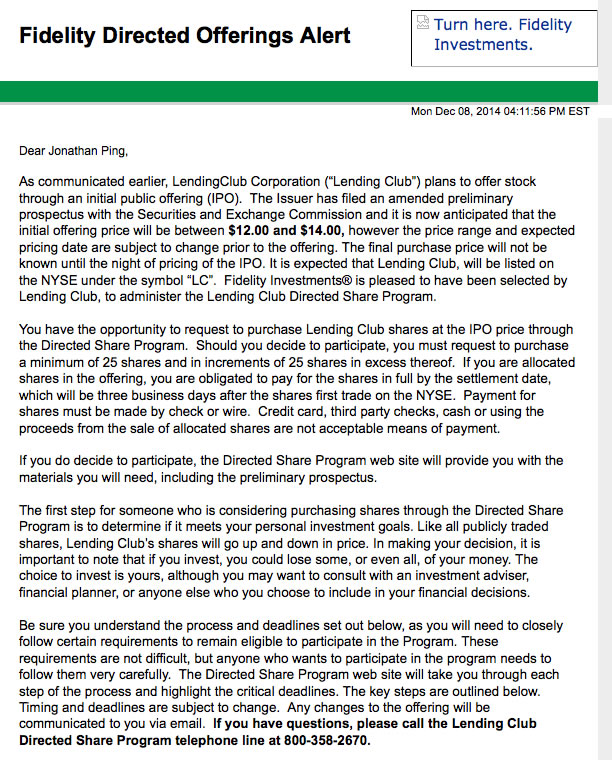 12/10/14. Another e-mail tells me that the confirmation period has begun. The price has increased to $15 a share, and I need to make final confirmation of my interest. $15 a share is 25% higher than the initial top range estimate of $12. This gave me the feeling that they are just pulling numbers out of the air (which they probably are). That's the thing about growth stocks. It all depends on the future, and even slight adjustments to a forecast can change the share price significantly. Given that I was only hoping for a 25% "pop" in the first place and wasn't sure that LendingClub was $5.4 billion company, I decided to scale back my commitment to 100 shares. Remember, most tech IPOs don't do that well.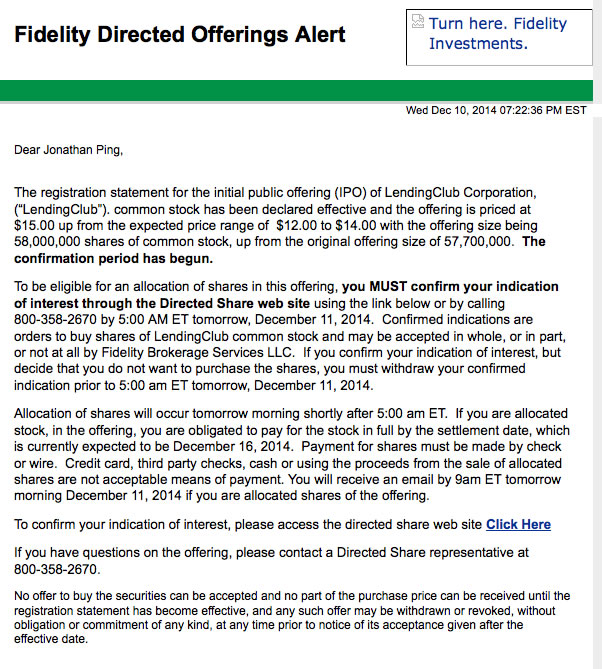 12/11/14. I received my "LendingClub Corporation Directed Share Program Notification of Allocation", where I learned that I had gotten my 100 shares. Based on reports, people who asked for the max 350 shares ended up getting 250 shares.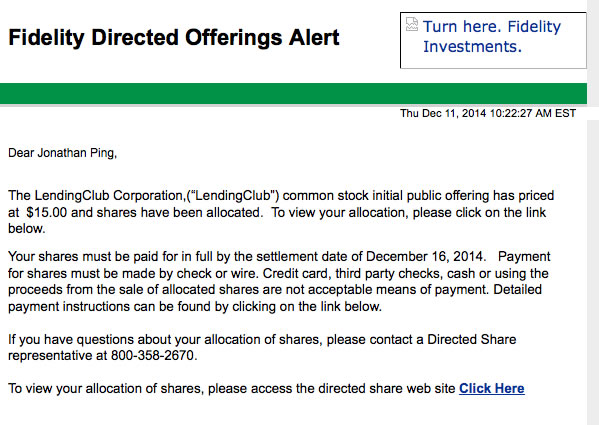 I quickly looked to see what the market price was, and saw that it had gone as high as $25.44 and was currently around $23. That would make LendingClub a $8.5 billion company! After about 30 seconds of thought, I decided that would take the 50%+ instant gain and get off the ride. I am more comfortable with value investments rather than growth. Anything trading at 40 times projected revenue (not profit, revenues, LC is losing money so far this year) is not my cup of tea.
I sold my 100 shares a $23 for roughly an $800 gain. Here's my transaction screenshot: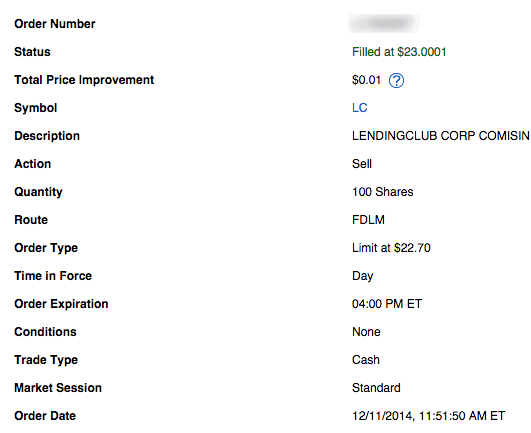 The whole process was entertaining and educational. I still think that Lending Club has a lot potential, but apparently so do a lot of people. Congratulations to the others who committed to more shares and are looking at even bigger gains. Will you keep them or have you already sold them to lock in a profit?