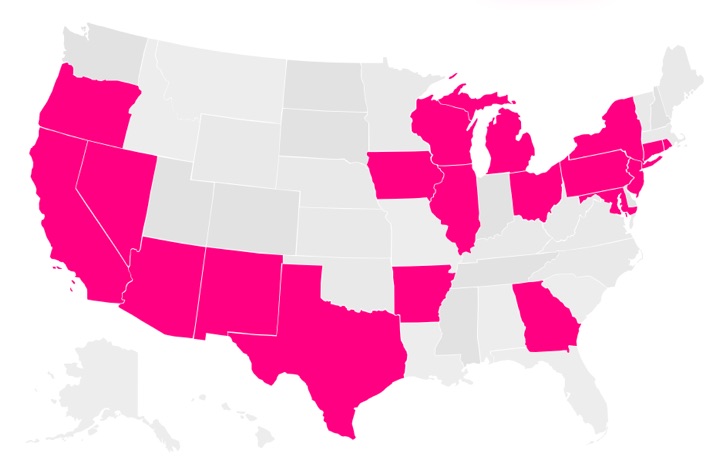 Updated July 2018. Lemonade continues its rollout – see map above. Get a free quote from Lemonade and see if they are cheaper than your current homeowner's or renter's insurance policy. Feel free to leave a comment about whether they were more or less expensive at the same coverage and deductible level.
Right or wrong, many people view insurance companies with suspicion. Even though you pay them money every month for protection, you worry if you'll actually get paid when you experience a problem. The problem is that with most insurance companies, every dollar they don't pay you ends up in their pocket. The incentives are not aligned. Will they find a reason to deny your claim? Will they make it such a pain that you'll just give up? Recall the Insuricare scene from the movie The Incredibles.
Lemonade is a new insurance company that takes a flat cut upfront, and the rest is put aside to payout claims. They are starting out with homeowner's and renter's insurance. The specific breakdown is below.
20% to Lemonade.
40% into a pool to pay out for claims (or charity).
40% to reinsurance in case that pool is exhausted (catastrophic cases).
Reinsurance is basically what is sounds like – insurance for insurance companies. This provides additional safety that there will be money to pay out your claim in cases of catastrophic losses (i.e. certain natural disasters). Examples of reinsurance companies are Lloyd's of London and Berkshire Hathaway.
If there are fewer claims than expected, Lemonade will donate the money to a charity of your choice. Therefore, they have no direct incentive to deny a valid claim. In turn, hopefully their customers will also not make false claims because they will only be taking money away from charities and not the big bad insurance company. When signing up, you even take a "honesty pledge". Here's how behavioral economist Dan Ariely, who is their "Chief Behavioral Officer", puts it:
Knowing that every dollar denied to you in claims is a dollar more to your insurer, brings out the worst in us all… Since we don't pocket unclaimed money, we can be trusted to pay claims fast and hassle-free. As for our customers, knowing fraud harms a cause they believe in, rather than an insurance company they don't, brings out their better nature too. Everyone wins.
Lemonade is also structured as a Public Benefit Corporation (B-Corp), which makes it the "World's Only Public Benefit Insurance Company".
Update: In July 2017, TechCrunch reported that Lemonade made its first annual donation of $53,174 or 10.2% of first year revenues. So that's 10% out of the 40% pool reserved for claims (or charity).
Lemonade also saves money with tech start-up tricks. No human salespeople. No brokers. No physical branches. Apply online. File your claim online. You can do nearly everything via smartphone app (iOS and Android) with a chat-based AI interface. (Fewer adjusters and customer service reps.) If you have to file a claim, you can take a video of the damage using their app and explain the situation.
It remains to be seen if they can truly disrupt the industry. In the meantime, they need competitive premiums. Uber would not be so successful if they weren't also cheaper than traditional taxis.
Live Policy and Zero-deductible option. In September 2017, Lemonade rolled out a new option with a zero deductible. If you pick this option, you won't have to pay any deductible and thus get the full value of even a smaller claim like a $250 bike or smartphone. Importantly, Lemonade also promises not to hike your premium after making a claim (you are limited to two claims per year). You can preview how much this option changes your premium with their "Live Policy" system where you can make changes to your policy instantly via the Lemonade app.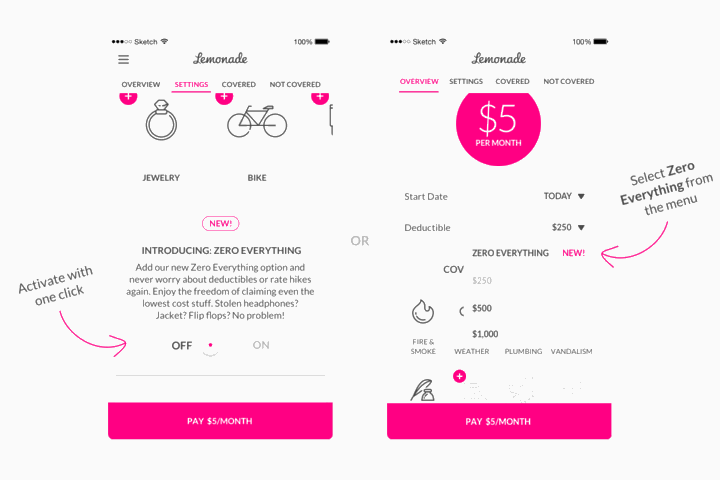 As of July 2018, Lemonade offers renters, condo and/or homeowners insurance in Arkansas, Arizona, California, Connecticut, District Of Columbia, Georgia, Iowa, Illinois, Maryland, Michigan, New Jersey, New Mexico, Nevada, New York, Ohio, Oregon, Pennsylvania, Rhode Island, Texas, Wisconsin. Get a free online quote from Lemonade and compare with what you have now. Prices start at $35 $25 a month for homeowner's insurance and $5 a month for renter's insurance.
Also see: I asked for more clarification on how Lemonade differs from mutual insurance.