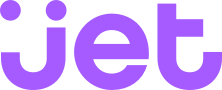 Update October 2015. CEO Marc Lore just announced that Jet is dropping its membership fee for everyone. They've only been live for a few months, so most customers are still on a free trial anyway.
This was surprising for many because Jet was supposed to be following the "Costco model" – sell you things at thin profit margins and make their money on the $50 annual membership fee. However, recall that Costco also makes a lot of money on Executive members who earn 2% back on all purchases. If you spend over $5,500 a year at Costco, you effectively don't pay any membership fee. The margins are thin, but the numbers still work for Costco if you spend enough.
Jet has a "Smart Cart" feature that lowers your unit pricing based on volume and shipping efficiency, so the goal appears to be to encourage high-volume shopping. I've read reports that the average Amazon Prime customer spends about $1,000 a year at Amazon. Is that enough? Shrug, I'll leave the profitability issue to their management and investors.
Jet does have good prices on some things, so depending on what you like to buy they may save you some money. Get $10 off your first order of $35+ with code TENBUCKSNOW. Even better, the competition is forcing Amazon to lower their prices, so you can benefit without ever shopping at Jet. Let some of that venture capital flow into your wallet. 🙂
Original post from July 2015:
Jet.com has officially launched its attempt to bring the Costco model to online shopping. That is, they plan on selling you things at near-zero profit margins and make their money on the annual $49.99 membership fee. The more stuff you add your cart, the lower the total cost. The more you buy from the same warehouse, the lower your total cost. Free shipping on orders of $35 or more.
This supposedly means prices that are 10% to 15% lower than Amazon on average, even listing the Amazon price right on their page for instant comparisons. How they show savings is a little confusing… things make more sense after adding it to your cart.
For example, this pack of toilet paper shows $21.05, the same price as Amazon. But I can save $9.06 by actually adding it to my cart, which brings the actual price to $11.99, much cheaper than Amazon. If I buy *two* packs, then my sub total is $42.10 which breaks the $35 barrier and gets me free shipping. But my actual total due is only $22.74, less than $35. Confusing, but hey it works out in my favor so I'm cool with it.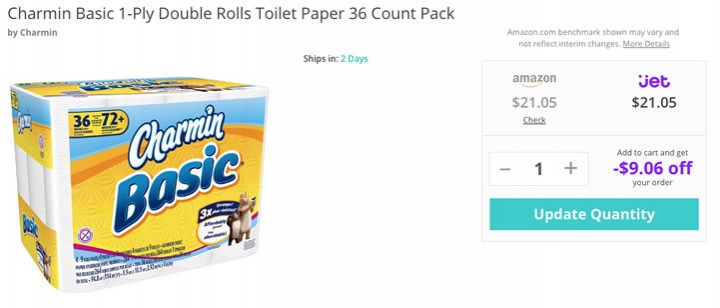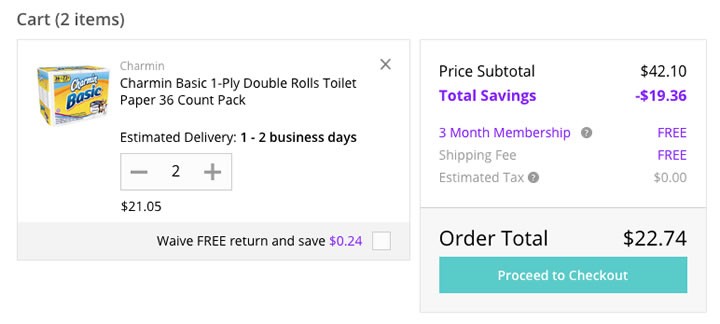 However, this model only works at a certain scale, and this WSJ article points out that they are often buying stuff from other competitors when they don't have the item in their own inventory:
The Hoboken, N.J., company is absorbing steep losses on many orders filled as part of a trial run that began in March, largely because Jet hasn't signed up enough partner merchants or opened enough warehouses to directly sell much of the merchandise shown on its website.

When a Jet customer buys items that aren't in its inventory or available from partner merchants, a Jet employee buys the items from another website and has them shipped directly to the customer. That is expensive for Jet because the company often pays high shipping costs plus any difference between its advertised price and the amount charged by the outside website.

For example, The Wall Street Journal recently bought 22 items from Jet. Twelve were shipped to the Journal by retailers such as Wal-Mart Stores Inc., J.C. Penney Co. and Nordstrom Inc., according to sales receipts.

Jet's prices for the same 12 items added up to $275.55, an average discount of about 11% from the prices Jet paid for those items on other retailers' websites. Jet's total cost, which also includes estimated shipping and taxes, was $518.46.
So in other words, the 11% pricing discount above is not due to an awesome business model yet. They are being artificially suppressed with investor money. Now, spending venture capital funds in the search for rapid growth is common for internet start-ups, but I don't remember any of my early Amazon orders coming in a Barnes & Noble box.
As a consumer, I suppose the best thing to do is simply enjoy the loss-leader savings during your free trial and then decide if it's worth $50 a year. Costco is highly profitable but even they offer their $4.99 rotisserie chickens as a loss-leader, missing out on $40 million a year in order to keep people coming in the door.