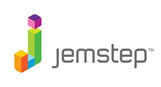 When I first reviewed JemStep in 2011, it analyzed your current portfolio and made customized mutual fund rankings. Flash forward to 2013, and they've moved into the portfolio management and advice space, similar to previously-reviewed sites like Betterment or Personal Capital. Now it's called Jemstep Portfolio Manager.
After signing into my old account and looking around at the new features, I was happy to see they've actually gotten pretty close to my wishlist:
Import my existing portfolio directly from broker. Check.
Track asset allocation across entire portfolio. Check.
Customized rebalancing alerts. Not quite. They do give rebalancing alerts, but only customized to their portfolio recommendations, not my personal chosen preferences. See below.
Detailed performance stats vs. benchmarks. Incomplete? I don't see this, but I haven't be able to get past the trade recommendations.
Reasonable cost. During their initial beta, the service will be free for everyone until March 1st, 2013. After that, the service remains free for those with assets of $25,000 or less. Otherwise see fee schedule discussion below.
Test Drive
The first step is to set a goal. They want things like age, income, target retirement age, risk tolerance, etc. You have provide a preference of mutual funds or ETFs. Given their previous support of actively-managed funds with high recent risk-adjusted returns, I was surprised to see the following:
Jemstep recommends index funds for most investors. Please check this box if you would like Jemstep to also include active funds in its analysis.
I indicated that I was a conservative 35-year old who wanted to retire at age 50 and preferred index ETFs.
After that, they want to see your current portfolio holdings. You can have them import your holdings by providing your login credentials to most financial providers, for example TD Ameritrade, Vanguard, Fidelity, etc. You can also add your holdings manually. For simplicity, I manually input a sample portfolio that was roughly similar to my current portfolio, using round numbers like a $1,000,000 total value and 70% stocks / 30% bonds split.
35% Vanguard Total US Stock Market Index (VTI)
35% Vanguard Total International Stock Index (VXUS)
15% Vanguard Total Bond Index (BND)
15% iShares TIPS ETF (TIP)
Next, a recommended portfolio is generated. Mine was roughly 60% stocks, 35% bonds, 5% commodities:
35% US Stocks (mid-cap tilt)
6% US REIT (originally included as US stock)
19% International (68% international/32% emerging)
35% Bonds (treasury, corporate, mortgage-backed)
1% Cash
5% Commodities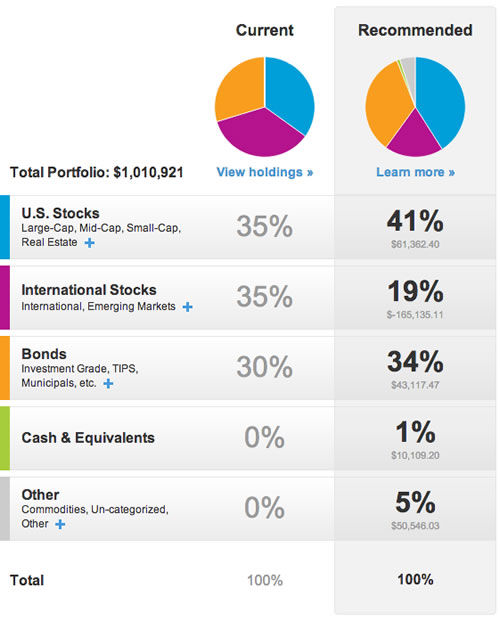 Finally, they provide specific buy and sell instructions, complete with number of shares to trade. Here's a screenshot that also includes the ETFs that they recommended.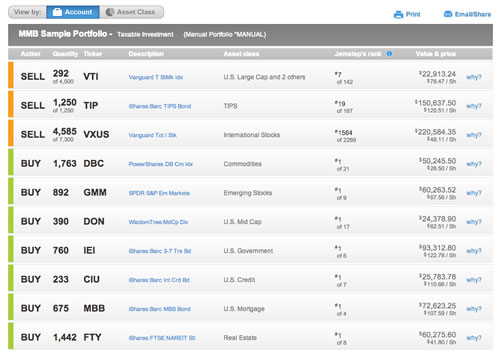 (click to enlarge.)
As you can see, their index ETF recommendations are still based on their previous Jemstep ranking system, which still takes into account past performance even though they are passive ETFs, and thus you may not necessarily by buying the cheapest ETFs. However, the real benefit of Jemstep may be to those folks currently with "financial advisors" that quietly place their clients in inferior funds because they are in-house products or other business arrangement. With Jemstep, at least they'll see that their fund is both expensive and performs poorly relative to other options.
I did find one possible error. Jemstep's software not seem to recognize that my holding of VXUS (Vanguard Total International ETF) is already 24% emerging markets, and categorized the entire fund as "international stocks" which believe is actually "developed international stocks". I tested this by replacing VXUS with VEA, which only holds stocks from developed markets in Europe, Asia, and Australia… same result of "international stocks" and same buy/sell recommendations. Therefore, the instructions to sell a chunk of my VXUS to buy GMM (SPDR S&P Emerging Markets ETF) may not be necessary.
Otherwise, I would say that in general the recommended portfolio fits in within the boundaries of current, popularly-accepted asset allocations. They chose to add US REITs and commodities exposure, but no special allocation to gold (there's a bit of gold futures in the commodities ETF).
Fee Schedule Analysis
Jemstep's Portfolio Manager service charges a flat fee per month depending on the value of your retirement assets. (During their initial beta, the service will be free for everyone until March 1st, 2013.) Here's a screenshot:

(Note: If you pay upfront for an entire year, you get 2 months free or 16.6% off)
The tiers are set up a bit awkwardly, in my opinion. Traditionally, fees are expressed as percentage of assets on an annualized basis (on top of the expenses from underlying investments). Viewed in this manner:
Up to $25,000, there are no fees.
$25,000-$150,000 in assets, fees are $17.99 per month, or between 0.86%-0.14%.
$150,000-$300,000 in assets, fees are $29.99 per month, or between 0.23%-0.12%.
$300,000-$600,000 in assets, fees are $49.99 per month, or between 0.20%-0.10%.
$600,000+ in assets, fees are $69.99 per month, or starting at 0.14%.
So while your fees do only rise along with your assets, on a percentage basis you'd be paying more at $305,000 in assets than at $110,000 in assets. Also, it's not really clear why they have to charge more when your assets rise. They don't hold your assets in a custodial account, you're still with your own brokerage and making all the trades yourself. The computer doesn't have to work any harder to crank out the buy and sell recommendations when there are more commas involved.
That said, a million dollar portfolio would only be paying a flat $840, or 0.084%, or 8 basis points. Actually, if you've got a million dollars, you could commit to a year upfront and then you'd only be paying $700 a year, or 7 basis points. So the sweet spots are the small portfolios under $25,000 which are free, and larger portfolios. As always, you could do the ongoing rebalancing yourself if you were willing to spend a few hours a year with a calculator. But the point of these services is to provide value for the people who don't want to DIY.