Jemstep is a new website that lets you track your investment portfolio along with providing advice on improving your mutual fund and ETFs holdings. In terms of existing products, you could call it a combination of the all-in-one view of of Mint.com plus the mutual fund ratings of Morningstar.com. However, the key difference from Morningstar is that their Jemscore ranking system is customized for your specific preferences. The weighting of different factors changes with your answers to the topics covered by their "goal preference" survey:
Demographics: Age, time to retirement, etc.
Risk tolerance: Common risk-questionnaire survey questions about return vs. volatility
Fees, Taxes, & Income: Sensitivity to fees, taxes and gains, preference for income vs. total return
Fund preferences: Active vs. passive, manager tenure, loads, etc.
ETF preferences: Liquidity (volume) preferences, bid/ask spread sensitivity
Investment Account Aggregation
I haven't entered all of my brokerage accounts, but so far the aggregation service works fine and all my different holdings including individual Treasury bonds shows up fine. Jemstep uses CashEdge for account aggregation, which is well-known and the backbone of several big banks. Although anything with a ticker symbol is tracked, Jemstep only provides rankings for mutual funds and ETFs and not individual stocks or bonds. There isn't much in the way of asset allocation breakdowns or volatility measurements. (Update: There is an asset allocation chart available in the Portfolio summary page, although it may not pick up all your holdings.) It does track the historical performance of your accounts, which you can compare to a few basic benchmarks like the S&P 500.
Mutual Fund Rankings
I certainly like the idea of a customized ranking system. However, if anything, I don't know if it goes far enough. The main weakness I see in their ranking system is the same as for Morningstar. Despite my survey answers, overwhelmingly what matters most is recent past performance. The rankings change each month, so if you always want to hold the "best fund" you'lll be left chasing one hot fund after the next. The top-ranked fund will rarely ever be an index fund.
For example, let's look at my holding of the Vanguard Emerging Market Index ETF, VWO. Instead, it recommends as #1 the iShares MCSI Malaysia ETF (EWM). Okay, the Malaysian market has been doing quite well recently, but would it really be wise to hold a single small country ETF with a 0.53% expense ratio as opposed to one that holds all the emerging economies from China to Southeast Asia to Latin America, all at 0.22% expense ratio? Likewise, Morningstar has EWM at a 5-star rating and VWO at only a 4-star rating. Screenshot (click to enlarge):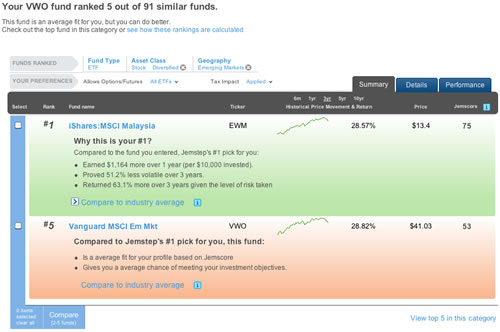 Another #1 fund ranked for me was the Yacktman Fund (YACKX). I actually kind of like this actively-managed fund as a "fun money" holding, as the manager takes concentrated bets and isn't afraid to be different than the crowd (right now, its portfolio is 11% Pepsi and 11% News Corp). But again, right now the past performance of Yacktman looks really great. But some quick research shows that back in 2000, recent performance was awful, and the fund's assets were only $69 million which means very few people owned it. The fund's own board of directors tried to oust him (see 2001 Kiplinger's article). Would Jemstep (or Morningstar) have been recommending it then?