It's time for a end-of-year checkup on the ole' portfolio, as I'm afraid that I'll forget about it between Christmas and New Year's. There isn't much change to my investment portfolio itself, the target asset allocation is the same, and the specific fund holdings are pretty much the same. I'm closer to 70% stocks and 30% bonds now. With only about 7 trading days left, I wanted to see how the various asset classes that I own performed in 2011.
My portfolio is similar to the David Swensen model portfolio, which uses low-cost index funds to gain exposure to specific asset classes. Here is an implementation of the portfolio using actual ETFs in a recommended 70% stocks / 30% bonds breakdown.
30% Domestic US Equity (VTI)
15% Foreign Developed Equity (VEA)
10% Emerging Markets (VWO)
15% Real Estate (VNQ)
15% U.S. Treasury Bonds (IEF)
15% Inflation-Protected Securities (TIP)
The chart below shows the growth of $1,000 invested this way (eMAC) at the start of 2001 until the end of November 2011, as compiled by the financial advisory group ETF Portfolio Management for benchmark purposes.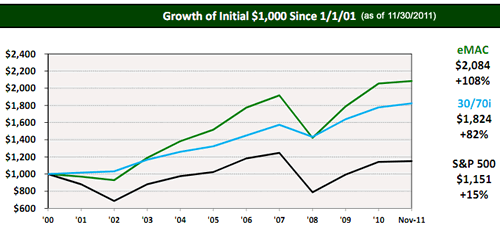 I have also taken the liberty of updating their annual returns table to including 2011 year-to-date total returns (see highlighted) using Morningstar data as of 12/19/2011.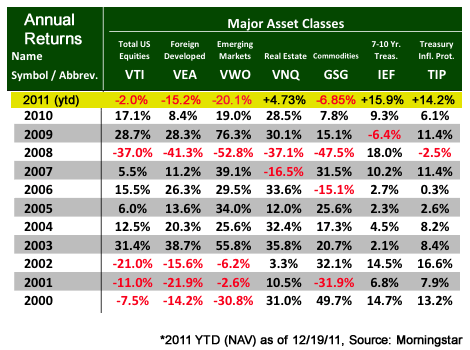 The weighted year-to-date return of the overall model portfolio is 0.35%, essentially zero for 2011. But from the table, you see that each individual asset class may have moved a lot. European and Emerging Market stocks performed quite poorly (in case you don't read the news), the S&P 500 looks like it will more or less go nowhere for the year, REITs (Real Estate) did okay, and Treasury bonds did very, very well considering this low-yield environment. Inflation-Protected bonds (TIPS) were the superstar in my portfolio, they saved my bacon.
Another year, another reminder that predicting short-term market movements is way beyond me. 🙂 I continue to be happy with owning various asset classes with long-term expected positive returns, but which tend not to move in sync and thus smooth out the ride.
Next year, I intend to learn more about an income-oriented portfolio as that may potentially work better – at least psychologically – for the early-retirement set. My secret crush, the Vanguard Wellesley Income Fund (VWINX) was up 7.91% in 2011 YTD. It's a income-oriented actively-managed fund with about 35% in dividend stocks and 65% in corporate bonds – but with a tiny expense ratio of only 0.28% for investor shares, 0.21% for admiral shares.