Time for another update of my investment portfolio, including employer 401(k) plans, self-employed plans, IRAs, and taxable brokerage holdings.
Asset Allocation & Holdings
You can view my target asset allocation here, along with link to other model portfolios. Despite the headlines, I still like to buy, hold, and rebalance. Here is my current actual asset allocation: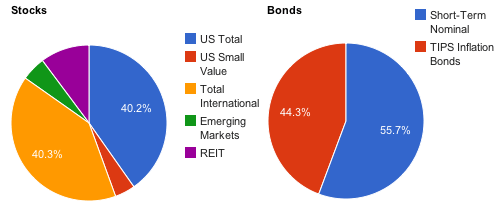 Everything is within acceptable ranges, other than I need to buy more TIPS. This is just an overshoot since I have my 401k buying shares in a stable value fund automatically, and my TIPS are mostly stuck in IRAs. Actually, my TIPS holdings have been doing great, due to how low real yields are right now. Last I checked, even 10-year TIPS had negative real yields.
My current ratio is about 75% stocks and 25% bonds. I've been thinking about this balance. On one hand, I'm contributing a lot of money into the portfolio, and I hope that I can get my "early" retirement on within the next 10 years. At that point, I'm going to want something closer to a 60% stocks and 40% bonds setup, the classic balanced fund ratio. So I want to shift towards bonds, but bond yields don't look very appetizing right now. For now, I'm just going to keep up the gradual shift.
Stock Holdings
Vanguard Total Stock Market ETF (VTI)
Diversified S&P 500 Index Fund (DISFX)*
Fidelity Extended Market Index Fund (FSEMX)*
Vanguard Small-Cap Value Index Fund (VISVX)
Vanguard FTSE All-World ex-US ETF (VEU)
Vanguard MSCI Emerging Markets ETF (VWO)
Vanguard REIT Index Fund (VGSIX)
Bond Holdings
Vanguard Limited-Term Tax-Exempt Fund (VMLTX)
Stable Value Fund* (3% yield on past purchases, 1.8% on new)
iShares Barclays TIPS Bond ETF (TIP)
Individual TIPS securities
The overall expense ratio for this portfolio is in the neighborhood of .20% annually, or 20 basis points, which is much lower hurdle to overcome than the average mutual fund expense ratio of over 1% annually. This is all DIY, so I don't pay portfolio management or financial advisor fees.
3% Safe Withdrawal Rate
I've also decided to use a 3% theoretical safe withdrawal rate instead of a 4% withdrawal rate. So instead of reaching 25 times our annual expected expenses, we will need to save 33 times. This is due to the fact that we will probably reach early retirement with 10 years, and thus our portfolio will have to last a lot longer than a conventional age 65 retirement. 3% is a more conservative number, and in reality I doubt that we will even go by the 3% number in strict terms. From reading other early retiree stories, we'll stay flexible and adjust our withdrawals somewhat with market returns.
With portfolio increases and additional contributions, at a 3% withdrawal rate our current portfolio would now cover 43% of our expected expenses. If you recall, I plan to have the house paid off at retirement as well. It might be nice to have a portfolio that yields 3% where we could spend the dividends and interest payments, and I have been tossing around ideas for that as well. I still like the idea of 50% Target Retirement Income (or similar) and 50% Wellesley Income.