(Update: Since the Citi Diamond Preferred Card post generated some questions, I've updated this post for the new Citibank online interface. Even though I first wrote this way back in 2005, the steps are pretty much the same. Just be sure to note the dates of earlier comments.)
Citibank is the easiest issuer to get cash in the bank from if you have a 0% APR balance transfer available on the card. This is because they will write you a check for your balance transfer amount. The best part is Citi was smart enough to make this feature available online. Here is a step-by-step walk-through, complete with screenshots:
1) Get online access and log in to your credit card account.
2) View the specific card that has the balance transfer offer you wish to use. On the menu bar, go to Tools & Services > Request a Balance Transfer. Here is a screenshot: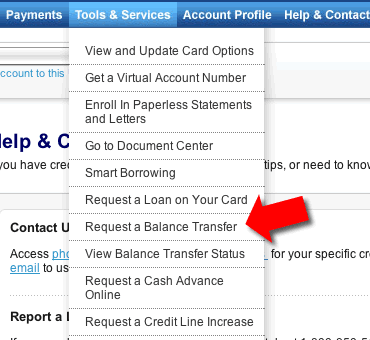 3) Select an offer. You may have more than one, ideally you'd be looking for the longest duration offer with the least fees.
4) Get Your Money! Confirm your request balance transfer amount and fees due.