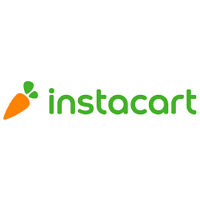 Chase has partnered with Instacart to offer a free 6-month membership to Instacart Express (~$50 value) when you add an eligible Chase credit card as a payment method. You also get a $10 off $35 coupon. You can see the full list here, but it's nearly every Chase credit card including hotel, airline, and ones that earn Ultimate Rewards points.
From October 11, 2021, through January 31, 2022, customers who sign up for an Instacart Express membership with an eligible Chase credit card can receive a free membership until April 30, 2022, and $10 off their next order of $35 or more. Customers who were Express members on or after September 30, 2021 are not eligible for this offer.
Tip #1: Turn off auto-renewal immediately after activation. When you activate this offer, it will be set to auto-renew on April 30, 2022 at $99 for a full year. However, you can cancel this auto-renew today, and your membership will automatically end on April 30, 2022 instead. You will have to navigate to "Menu" and then "Instacart Express" and scroll down to "Cancel membership" and click past a few "Are you sure???" prompts. You should reach this final page: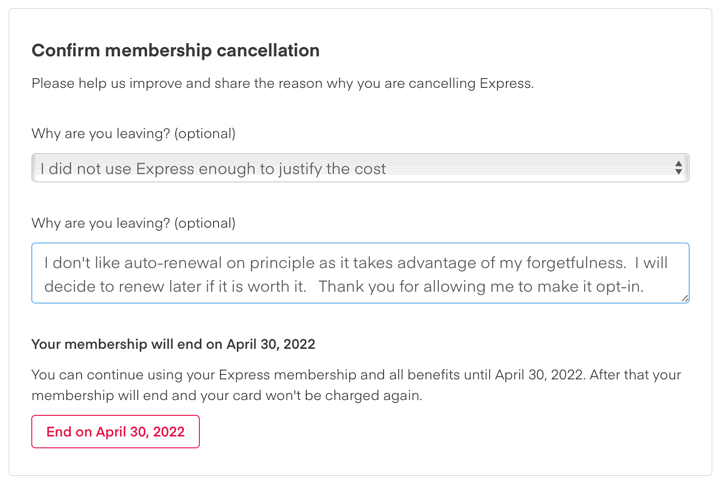 Tip #2: Keep the Instacart app installed on your phone with notifications on. I've used Instacart a handful of times, and they reliably send me new coupons via app notifications. (I don't get the same coupons via e-mail.) I've gotten $20 off $20 orders and similar, which stacked with Instacart Express membership can be a pretty good deal when you consider your total time spent shopping.
Instacart Express usually costs $9.99 a month (or $99 a year upfront) and includes free delivery on $35+ orders and reduced service fees. They claim the average savings is $7 per order. Hat tip to vacasmugen at SD.