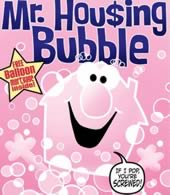 I'm probably going to be writing a good bit about our house buying process in the upcoming months, and wanted to clarify our position a bit. Of course, you are still free to disagree with me afterwards 😉
Right now, we're just looking. So far it's just idle online surfing from afar on various MLS listing sites and on Craigslist. Before we buy, we have a lot of research to do. We want to get a better idea of neighborhoods, school districts, average lot sizes, specific neighborhood characteristics, traffic, and long-term growth prospects. In fact, we are going to be renting on a month-to-month basis after the move, it's already been set up. We are in no rush to buy a house, and plan to be both patient and discerning.
I do think that housing is overpriced in many areas. I've seen and written about the inflation-adjusted price charts, read various bubble–obsessed sites, detailed how they can be a horrible investment, and calculated the crazy median price-to-income ratios of many cities. And I'll continue to digest all the information I can.
But I'm also willing to buy if the deal is right. If we find a house in a neighborhood we like, on a bigger lot, a little beat-up perhaps, at a price that is below average for the area, then yes, we may buy the house.
Why? Going back on an old saying about the stock market, it's not timing the market, it's time in the market. If we were unsure if we were going to stay 3, 5, or even 7 years here, we wouldn't buy. This is the exact reason we didn't buy three years ago, even though we probably could have profited nearly $100,000 by now. Is the housing market going to drop 20% next year? Stay stagnant for a decade with rising inflation? If we wait, when is it too early to buy back in? Too late? I don't know, and I don't care. I'll buy when I find what I like at a price that I'm willing to pay. It may take two months… or two years.
Now here is where you're going to have to choose whether or not to believe me. We plan on owning this house… forever. This may seem unrealistic given that the average person moves within 7 years, but the average person also doesn't save over 40% of their after-tax income. We know what we want. This upcoming move has been the culmination of years of waiting and careful planning. I won't say that there is no emotion to this purchase; the idea of owning a house that we can pour some sweat into, learn some remodeling skills, and make your own is one of the best intangible benefits of owning I can think of. At the same time, we weren't going to move back until we could afford a house on just one income. And we can now.
All this being said, this is an explanation, not a recommendation. Whether to buy a house is a decision every family has to make for themselves. Either way, I'll be making plenty of updates along the way so stay tuned!