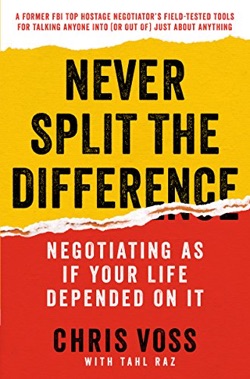 Initially, I viewed Never Split the Difference: Negotiating As If Your Life Depended On It by Chris Voss as a tactical financial book for specific situations: buying a car, negotiating a salary, buying a home, renegotiating rent, or any number of business transactions. After all, the author is the "FBI's lead international kidnapping negotiator"!
Instead of a win/lose mentality, this book helps you find out what the other person really wants overall, what they will accept specifically within your own acceptable range, and to do it in a way that everyone feels respected. I found myself using the advice every day for all the little negotiations in life: getting the kids out the door in the morning, finding out why someone was mad at me, and so on. Admittedly, I had (and still have) a lot of room for improvement, but this book helped improve my communication and listening skills. I highly recommend reading the entire book, but here are a few selected highlights and excerpts.
What are the goals after learning these skills?
What were needed were simple psychological tactics and strategies that worked in the field to calm people down, establish rapport, gain trust, elicit the verbalization of needs, and persuade the other guy of our empathy. We needed something easy to teach, easy to learn, and easy to execute.
It all starts with the universally applicable premise that people want to be understood and accepted. Listening is the cheapest, yet most effective concession we can make to get there. By listening intensely, a negotiator demonstrates empathy and shows a sincere desire to better understand what the other side is experiencing.
Mirroring. Here's a very simple tactic that you can try today (really! try it on your very next conversation) to help get more information, called "mirroring":
It's almost laughably simple: for the FBI, a "mirror" is when you repeat the last three words (or the critical one to three words) of what someone has just said. Of the entirety of the FBI's hostage negotiation skill set, mirroring is the closest one gets to a Jedi mind trick. Simple, and yet uncannily effective.
It's just four simple steps:  

1. Use the late-night FM DJ voice.
2. Start with "I'm sorry . . ."
3. Mirror.
4. Silence. At least four seconds, to let the mirror work its magic on your counterpart.
Here's a short YouTube video with examples.
Labeling. We want to get on the same page. People want to be heard and understood. We can try to confirm a perception gently, show that we are listening, and validate their emotions with "It seems like…" phrases.
There are fill-in-the-blank labels that can be used in nearly every situation to extract information from your counterpart, or defuse an accusation: It seems like _________ is valuable to you. It seems like you don't like _________. It seems like you value __________. It seems like _________ makes it easier. It seems like you're reluctant to _________. As an example, if you're trying to renegotiate an apartment lease to allow subletters and you know the landlord is opposed to them, your prepared labels would be on the lines of "It seems as though you're not a fan of subletters" or "It seems like you want stability with your tenants."
Here is an example from a grouchy relative at Thanksgiving:
"We don't see each other all that often," you could say. "It seems like you feel like we don't pay any attention to you and you only see us once a year, so why should you make time for us?" Notice how that acknowledges the situation and labels his sadness? Here you can pause briefly, letting him recognize and appreciate your attempts to understand what he's feeling, and then turn the situation around by offering a positive solution. "For us this is a real treat. We want to hear what you have to talk about. We want to value this time with you because we feel left out of your life."
"How" and "What" questions are much more gentle and respectful ways to guide the conversation along. It frames it is as a collaborative effort and asking for help, not being accusatory or demanding was "Why".
Here are some other great standbys that I use in almost every negotiation, depending on the situation:  

What about this is important to you?
How can I help to make this better for us?
How would you like me to proceed?
What is it that brought us into this situation?  
How can we solve this problem?  
How am I supposed to do that?
Instead of "No":
The first step in the "No" series is the old standby: "How am I supposed to do that?" You have to deliver it in a deferential way, so it becomes a request for help. Properly delivered, it invites the other side to participate in your dilemma and solve it with a better offer. After that, some version of "Your offer is very generous, I'm sorry, that just doesn't work for me" is an elegant second way to say "No."
Used properly, these little things can really improve your everyday life. Learning about "negotiating" doesn't mean you like fighting or painful conflict, it can actually mean less painful conflict:
If this book accomplishes only one thing, I hope it gets you over that fear of conflict and encourages you to navigate it with empathy. If you're going to be great at anything—a great negotiator, a great manager, a great husband, a great wife—you're going to have to do that. You're going to have to ignore that little genie who's telling you to give up, to just get along—as well as that other genie who's telling you to lash out and yell.