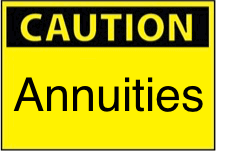 I'm still learning about immediate annuities as a potential future income stream, and came across this ImmediateAnnuities.com article about the relationship between immediate annuity payout rates and interest rates. (Note: I am not talking about indexed or variable annuities. Those I avoid completely.) The chart below shows the close relationship between the payout rate for a common type of immediate annuity (single life, 10-year guaranteed payout) and the interest rate on high-quality long-term corporate bonds.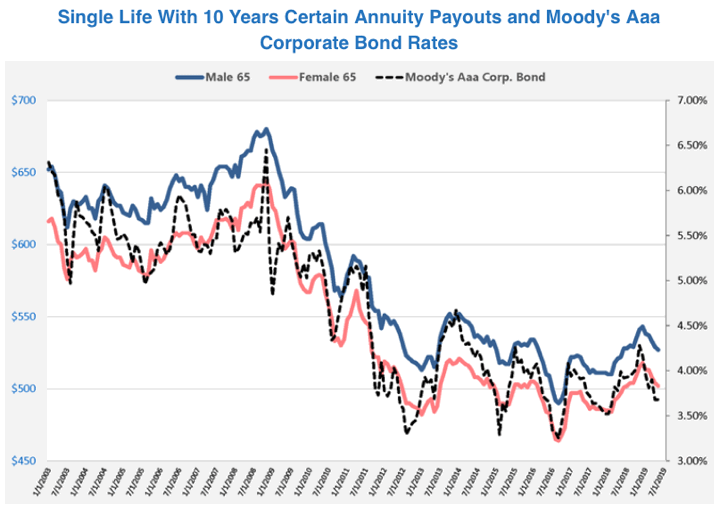 At the same time, there is much less correlation between the payout rates and short-term interest rates. The "Fed Funds Rate" that you hear about all the time in the financial media is a short-term rate set by the Federal Reserve.
Even though annuities like to tout themselves as "guaranteed", nominal annuities with a fixed payout are still exposed to inflation risk. For example, your contract might state a fixed payout of $1,000 a month for the rest of your life, but if inflation spikes, that $1,000 won't go nearly as far. With 3% average inflation, your effective paycheck shrinks to only $640 of equivalent buying power after 15 years. With 4% inflation, it shrinks to $550 of buying power.
Right now, long-term interest rates are near historical low and thus so are payouts. You could argue that your downside potential is much greater than the upside as historically there are many more examples of extended periods of high inflation than extended periods of deflation. I don't want to buy a 20-year bond paying the current market rate of 3.5%, but I really don't want to locked in what is essentially a lifetime bond paying 4%.
Now, if you are definitely going to buy an annuity, the article does make a valid point that if you wait a year for rates to increase, that's one less year of income you earn from a lifetime annuity. You may also opt to hedge your inflation risk elsewhere.
I'm still decades away from the age when I would like to buy an annuity, but I do think now is a very tough time for current retirees trying to create guaranteed income. The income available from "safe" investments are so low, and you do even worse after taxes. However, I simply don't buy into the theory that inflation has gone away forever, and I personally would have a hard time buying an annuity at current rates.