My 'How Do You Budget?' post was a nice success, and the giveaway winner has been notified. Here is a breakdown of the replies: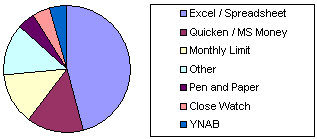 I broke them roughly down into these categories:
Close Watch – People who simply monitor each and every expense closely.
Monthly Limit – When you pay yourself first, and give yourself only a set amount at the beginning of the month to spend.
Pen and Paper – People who track their budget using pen and paper.
Excel / Spreadsheet – People who track things using their own custom spreadsheet.
Quicken / MS Money – People who use the popular personal finance software.
YNAB – People who use the YouNeedaBudget system.
Other – Either there was only one of that type, or I couldn't fit it neatly into any other category.
While there was no overwhelming favorite, there does seem to be a lot of people making their own systems using spreadsheets. That was actually a bit surprising; I thought there would be more Quicken/Money users. I'll be honest, we're still not budgeting. I think we as a couple are closest to the 'Close Watch', as we just try to watch what we buy on a regular basis. Of course, I'm sure there is some extra fat in there somewhere…
Thanks again to every for sharing!