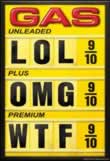 Everybody's talking about gas prices… they've reached another high, everybody wants a hybrid… so why not explore how an individual can try to limit their exposure to gas prices?
How much more are you really paying?
Yes, $50 for a fill-up hits some sort of mental trigger, but sometimes I wonder if people really have calculated exactly how much more they are paying. According to AAA, the current national average is $3.70/gal, while a year ago it was $3.05. If your car gets 20 miles per gallon, you drive 12,000 miles per year, paying 65 cents more per gallon equates to an extra $390 per year. (If you got a stimulus check, this means a lot of it might have already been spent…)
Now, for many families who are walking a financial tightrope, such a hard-to-avoid increase is just a another step closer to the edge. But for the Wii-playing, Starbucks-drinking crowd, is an extra $32/month really worth making a fuss over? I mean, some of these folks are the same ones whose eyes glaze over when I describe some of the extra things I do for money outside of a regular workday.
Hedging Against Future Increases
Now, someone could always play with oil futures contracts like the airlines do, but that's a bit complicated for the average person. However, if we are afraid that gas prices will rise even further but are comfortable paying the current price, it would make sense to try and buy a bunch of gas at today's prices and lock-in that rate. A while ago there was a company called the FuelBank that tried to make this a reality, but it appears to have gone nowhere.
Buying the Oil ETF USO
Another way that you can effectively buy at today's prices is to buy shares of the United States Oil ETF, symbol USO, from your favorite online stock broker. This idea was initially explored in this SeekingAlpha article back when it debuted in 2006. Unlike other commodities ETFs or investing in an energy company like Chevron or Exxon, the objective of this ETF is specifically to keep it's net asset value (NAV) at the price of crude oil. (Specifically, the spot price of West Texas Intermediate light, sweet crude oil delivered to Cushing, Okla., minus expenses.)
Now, USO hasn't done the best job of tracking crude oil prices exactly on a day-to-day basis, but it seems to get the general trend right if you hold an extended period of time. From 5/7/07 to 5/6/08, crude oil went from $61.48 to $121.82 a barrel, an increase of 98%. (source) For the same date range, USO went from $48.06 to $93.38 a share, up 94%. (source)
In order to counteract the theoretical $390 from the example above back, you could have bought 9 shares of USO for a total upfront cost of $390 a year ago, which would be worth $408 more today. So in theory, the average driver could put aside something like $1,000 and buy 10 shares of USO to hedge against rising gas prices. Even just one share would dampen the effects somewhat.
The Catches
Unleaded gas prices only went up 21% in the same time period that crude oil went up nearly 100%. So the ratio between crude oil price and unleaded gasoline doesn't seem to be a constant. Also, if gas prices fall then your savings at the pump will likely also be negated by a drop in USO's share price. Also, you could account for the lost potential of any money put aside for this if you had invested it elsewhere.
I don't personally plan on doing this, but it is an idea that could work if you were really sensitive to higher gas prices and/or buy a lot of gas. Another alternative is a site like HedgeStreet, though I haven't looked too deeply into it.