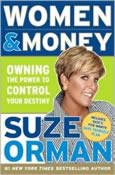 Initially, I had intended this to be review of Suze Orman's newest book Women & Money: Owning the Power to Control Your Destiny to be done by my wife. However, she expresses no interest in doing so. So I read it myself, and found out that her reaction was actually a bit ironic. Here is my review of this book both from the perspective of a male and the husband of a smart, capable woman who doesn't like dealing with money.
The first half of this book deals primarily with the question of Women can handle money as well as any man… So why don't they? It's tough to deal with this subject obviously, because not all women are the same and you don't want to be accused of stereotyping. But at the same time I'm glad that Suze tried. Here are a few ideas.
Women feel like coveting money is wrong. For some reason, it is okay to be proud to have a good job and a good family, but it's wrong to openly admit you want lots of money. It could be that women tend to be more nurturing and taking care of others versus themselves. They don't want to be considered selfish.
But at the same time that they try not to focus on money, they still worry about being broke. The book quotes a study that showed 90% of women describing themselves as feeling insecure when it came to their finances. In the same survey, nearly half the respondents said that the prospect of ending up a bag lady has crossed their minds.
Women are more team-oriented, as opposed to individually oriented. When a man thinks about money, they are at war – it's a competitive battle. Me, me, me. When a woman thinks about money, she wants to make sure the whole team is treated fairly, and wants everyone to get along without hurting anyone else's feelings.
An example of this is during salary negotiations. The book states that research has shown that women are 2.5 times more likely to say they feel "a great deal of apprehension" about negotiating. In one study, men used the metaphor of "winning a ballgame" to describe negotiating, while women picked the metaphor of "going to the dentist."
I have personally experienced this with my wife. Although her performance reviews are always great, she has always been very passive when it comes to salary negotiations. Despite my suggestions, she has never asked for an higher raise than offered, and never put in a counter-offer when accepting a new job. Suze puts it this way – "You are not on sale. Do not undervalue yourself."
Save Yourself Plan
The second half of the book is a condensed version of all her personal finance tips, broken down into 5 steps. The idea is that a woman should finish one manageable step per month. The advice is solid and straightforward, if a bit one-size-fits-all. Here's a brief summary of each step:
Checking and savings accounts. Get organized, get a free checking account, open up a higher-yield savings account, etc.
Credit cards and FICO scores. Check your credit score, build up your credit if you don't have any, pay down bills, pay less fees, etc.
Retirement Investing. Start putting something away, invest in 401ks and Roth IRAs, buy low-cost index funds, etc.
Must-Have Documents. Wills, living revocable trusts, advanced directives, etc.
Protecting Your Family and Home. Life insurance, renters or homeowner's insurance, personal liability insurance, etc.
Overall Review
I would read Women and Money if you (or someone important you know) feels like they should learn more about money, but for whatever reason haven't been able to do so. This books tries to find the right buttons to push, and if it works then it will be worth it. It's pretty popular so I'm sure most libraries have a copy. The advice included afterwards is good enough as starter material, but is not a source for advanced financial tips.
As for me, this book has caused me to want to involve my wife more in the day-to-day activities, if only to get her more familiar with things. I will continue to encourage my wife to read this book, and will probably include it in my Financial Will. Any thoughts from the women who've read this book?