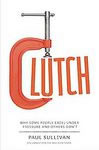 Drive. Click. Choke. Empowered. Switch. Bounce. It seems that the short book with the one-word title is very popular these days. Here's another one: Clutch: Why Some People Excel Under Pressure and Other Don't, by Paul Sullivan. The book explores stories of people both overcoming and succumbing to extremely stressful situations.
The people profiled include war veterans, actors, and athletes. In particular, five key characteristics of the "clutch" are given:
focus,
discipline,
adaptability,
the ability to be fully in the present, and
being driven, whether by fear or desire
What about a financial crisis? Your home value plummets while your mortgage rate jumps, you are suddenly unemployed, or your investments drop drastically in value. How will you respond so that your household survives? Seems a lot different than making a golf swing, but here I tried to summarize the section using the five traits above:
Focus. Take responsibility. Change what you can. Don't waste time blaming others like the mortgage lenders or the credit card issuers that jacked up your rates.
Discipline. Cut your costs without emotion. Sell liabilities like cars, boats, vacation properties. Walk away from your home mortgage if needed. You should always have enough cash to cover twelve months of your expenses.
Adaptability. What is most important to you? Family? Well, your family will still love you if you live in an apartment and drive a $3,000 car. Learn to live without the rest.
Be in the present. Don't wait. Don't think you'll be bailed out, or something magical will happen. If you rely on hope an sit around waiting for things to improve, you'll just burn through more of your reserves and end up even worse.
Being driven. Figure out what motivates you. Maybe it is fear of losing it all, or desire for financial freedom.