I'm working on planning our next travel adventure, and discovered a few new sites to help people navigate "opaque" hotel price engines Hotwire.com and Priceline.com. In my 5-Step Guide to Finding The Lowest Rate For Hotel Rooms, I outlined the benefits of using database sites like BiddingForTravel and BetterBidding to gather information from successful purchasers to remove some of the mystery. Hopefully, these will help you even further.
BidGoggles
With Hotwire, you know the price, but not the actual name of the hotel before you commit. A while back, I pointed out the ability to figure out the hidden hotels behind the price on Hotwire primarily using the number of TripAdvisor.com reviews shown. Shortly afterward, they removed that description. The job became harder, but BidGoggles attempts to use all the smaller clues given to you in order to do the same thing again. Here's how it works.
You provide them with the following: Star rating, Country, State, City, and Subarea (Neighborhood). Then you match up the little logos that show you what amenities the hotel offers, such as a fitness room, swimming pool, or free breakfast. The results have been hit or miss with me, although I found that it helps if you omit a few amenities if you get no matches. Hopefully their database gets better with time, although the site seems to have slowed down development.

The Bidding Traveler
With the 'Name Your Own Price' feature of Priceline, you have to bid auction-style for the price of a room, in addition to only knowing the general neighborhood and star-rating of the hotel. So you have to decide how much to bid on any given hotel quality level, as well as having to deal with the rules of how you can bid again if you're initial offer is rejected.
TheBiddingTraveler has you choose your hotel's neighborhood ("zones") along with the highest quality star-rating you want, and then provides you with some guidance as to what your starting bid and your final offer (the absolute highest price you'd be willing to pay). Recently rejected and accepted bids are provided, along with actual hotel names. Finally, the website actually walks you through the "optimal" bidding strategy, step-by-step.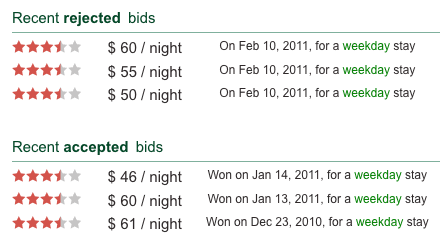 The main downside I noticed was that some of the accepted bids are sparse for some cities and can be a bit old, so again the quality of the database is very important. Happy travels!
Added: You can save another 2% or more with cashback sites like eBates ($5 new customer bonus), Mr. Rebates ($5 bonus), and BigCrumbs.