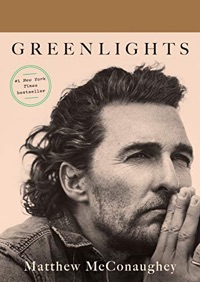 Matthew McConaughey was productive during the pandemic, collecting his diaries and reflecting on his life so far to complete the NY Times bestselling memoir Greenlights. This was a highly-enjoyable book containing several great stories and providing a lot of colorful background to my limited view of this actor. I appreciated how he lived his life to avoid the thing that people regret most often on their deathbeds:
I wish I'd had the courage to live a life true to myself, not the life others expected of me.
He wasn't one of those kids born into Hollywood, but instead a small town in West Texas. When he realized that he wanted to pursue acting, he received a great gift from his father, but it wasn't money or connections. When McConaughey suddenly wanted to switch his college major from a pre-law to film, with the goal of pursuing acting as a career, his father replied:
"Well…Don't half-ass it." Of all the things my dad could have said, of all the reactions he could have had, Don't half-ass it were the last words I expected to hear and the best words he could have ever said to me. With those words he not only gave me his blessing and consent, he gave me his approval and validation. It's what he said and how he said it. He not only gave me privilege, he gave me honor, freedom, and responsibility. With some formidable rocket fuel in his delivery, we made a pact that day. Thanks, Pop.
Greenlight.
Interestingly, one of the defining moments of his life and professional career occurred after he became a rich, popular actor known mainly for his roles in romantic comedies – EdTV, The Wedding Planner, How to Lose a Guy in 10 Days, Failure to Launch. He started to want different roles, but he couldn't get them. He wasn't seen as a serious actor. In order to change his position, he had to turn down multiple lucrative $$$ offers and risk being cast out of Hollywood.
…a year went by. Dozens of romantic comedy offers came my way. Only romantic comedy offers came my way. I read them out of respect but I stayed the course, stuck to the plan, and ultimately passed on them all. Just how puritanical was I about it? Well, I got a $5 million offer for two months' work on one. I read it. I passed. Then they offered $8 million. Nope. They then offered $10 million. No, thank you. Then $12.5 million. Not this time, but…thanks. Then $14.5 million. Hmmmm…Let me reread it. And you know what? It was a better script. It was funnier, more dramatic, just an overall higher quality script than the first one I read with the $5 million offer. It was the same script, with the exact same words in it, but it was far superior to the previous ones. I declined the offer.
He was voluntarily unemployed for over a year. He passed up nearly $15 million before he finally saw a script that he felt would put him in the right direction. But once that happened, within another two years, he won the Academy Award for Best Actor for his role in Dallas Buyers Club, the most prestigious award in his profession. I personally never noticed this gap before, but you can see it in his filmography taken from Wikipedia.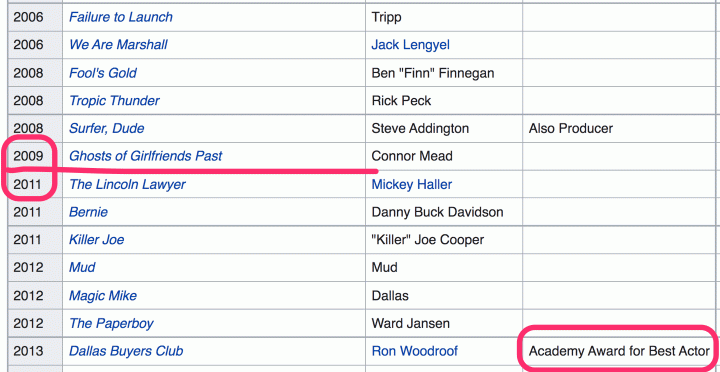 Here are some book quotes that support the notion that we all have an inner compass to follow:
I went to a voodoo shop south of New Orleans the other day . It had vials of "magic" potions stacked in columns with labels defining what they would give you: Fertility, Health, Family, Legal Help, Energy, Forgiveness, Money. Guess which column was sold out? Money. Yep, money is king currency today. Money is success. The more we have, the more successful we are, right? Even our cultural values have been financialized. Humility is not in vogue anymore, it's too passive. We can get rich quick on an Internet scam, be an expert at nothing but everything if we say we are, get famous for our sex tape, and attain wealth, fame, rank, and power, even respect, without having a shred of competence for anything of value. It happens every day. We all want to succeed. The question we need to ask ourselves is, What is success to us? More money? Okay. A healthy family? A happy marriage? Helping others? To be famous? Spiritually sound? To express ourselves? To create art? To leave the world a better place than we found it? "What is success to me?" Continue to ask yourself that question. How are you prosperous? What is your relevance? Your answer may change over time and that's fine, but do yourself this favor: Whatever your answer is, don't choose anything that will jeopardize your soul. Prioritize who you are, who you want to be, and don't spend time with anything that antagonizes your character. Don't depend on drinking the Kool-Aid. It's popular, tastes sweet today, but it will give you cavities tomorrow. Life is not a popularity contest. Be brave, take the hill, but first, answer the question, "What is my hill?"
An honest man's pillow is his peace of mind, and when we lie down on ours at night, no matter who's in our bed, we all sleep alone. The voluntary obligations are our personal Jiminy Crickets, and there are not enough cops in the entire world to police them — it's on us.
Can we live in a way where we look forward to looking back?
Here are a few more "life lesson wisdom" quotes in his own voice:
…biology and giddyup DNA and work. Genetics and willpower. Life's a combination. Some get the genes but never the work ethic or resilience. Others work their ass off but never had the innate ability. Others have both and never rely on the first.
You ever get in a rut? Stuck on the merry-go-round of a bad habit? I have. We are going to make mistakes — own them, make amends, and move on. Guilt and regret kill many a man before their time. Get off the ride. You are the author of the book of your life. Turn the page.
I don't have the physical looks, charisma, or relentless energy that McConaughey exudes, but I do believe that each of us knows the path that feels right for us, that aligns with our soul, that is "true to ourselves". Each of us has to drum up our own form of bravery to find and choose that path, even when it pays less money or gives us less power/respect/status from other people.
By the way, McConaughey's pivot is a great example of the power of financial freedom! Before McConaughey started turning down million-dollar offers, he called up with his financial advisor and was told that he was financially solid (at least for a while). He had F- You Money. Without that, he may never have been able to win that Oscar.