Jeremy Grantham is the head of GMO, an institutional asset management company that has more than $100 billion dollars under management. According to Wikipedia, he started one of the first index funds? He's built a reputation as a market genius, with stories of successfully avoiding the Japanese bubble, the Dot-com bubble, and the most recent Credit Crisis. Of course, sometimes he was very early and people lost a lot of money trying to follow him.
Every quarter, GMO releases a 7-Year Asset Class Forecast. You can read it and other market commentary for free by registering on their website. I wouldn't call looking ahead 7 years a "long" time horizon, but since I've exploring future market returns, I figured why not throw it out there for future reference. Here's the latest forecast as of April 30th, 2010. (Click to enlarge.)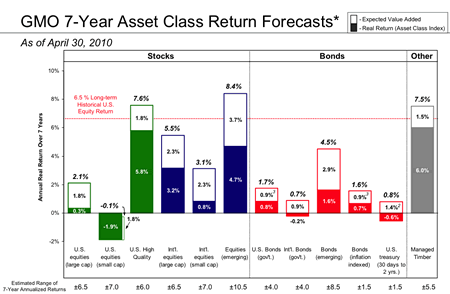 The chart represents real return forecast for several asset classes and an estimate of net value expected to be added from active management. These forecasts are forward-looking statements based upon the reasonable beliefs of GMO and are not a guarantee of future performance. Actual results may differ materially from the forecasts above.
GMO expects the High Quality US stock, Emerging Markets stock, and Managed Timber asset classes to have the highest real return over the next 7 years. I pretty much ignore the value-added part ("alpha") because even if I believed it, GMO won't manage my money for me anyway. 😛