I need to rent a car in Los Angeles next month, so I went onto Kayak.com and ran a quick search. The cheapest option at LAX was through a place called Deluxe Rent-a-car, at only about $20 a day including all taxes. It seemed so cheap, I instinctively ran a quick Google search for some reviews of this unknown company.
Wow, I have never seen such bad reviews for a rental car agency before. "Don't do it!" "Stay far away from this place!" "Worst car rental agency in the galaxy!" "Economic Terrorists!" "They wiped my account clean of over $5,000" And those were only the first 5 entries. I kid you not.
What did the LA Better Business Bureau have to say? Oh, just their worst grade possible of F: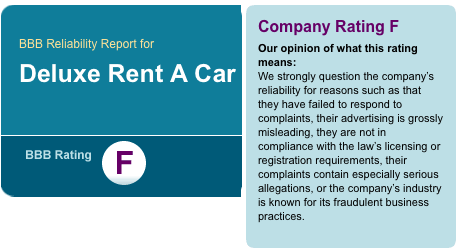 It's almost comical, as if there was a competition to run the absolute lowest cost car rental agency possible without being shut down by law enforcement. (They've somehow been in business for 9 years.) Check out these user reports, including direct quotes from Yelp, TripAdvisor, and other review sites:
They don't seem to actually check that they have the actual car you want before accepting the reservation. They just take all of them to get your business. Then when you arrive, if they have it, great, otherwise, they just give you whatever is available and refund you any difference. "My "standard convertible" became a Toyota Corolla with 65k miles with the check engine low tire pressure lights lit. It also had not been cleaned on the inside." If they actually have no cars left at all, then oops – too bad!
They charge everyone a $400 deposit, which is actually charged first onto your credit card, and then they have to reverse it later if they deem everything acceptable. If you get a parking ticket, they'll charge you $125 + the cost of the ticket.
The shuttle doesn't actually arrive in the Rental Car pickup section of LAX. It picks you up in the Courtesy shuttle area, with a "Johnny Park" sign instead of Deluxe Rent-a-Car. Does one area cost more to use or something? Finally, they only promise to run every 15 minutes instead of every 5 minutes like the other major agencies. Users complained of 45-minute actual wait times. I lost count of the reviews from confused customers.
The cars are dirty. Lots of pictures of stains on Yelp, and also claims of broken glass and bad smells. Don't expect your "non-smoking" vehicle to actually be that way.
Multiple instances of the car registration being expired, yet the car was still rented out. Nice.
Rude employees. Too many stories to generalize any other way.
Gas policy: You get whatever the last renter left in the car. They apparently don't have gas pumps at their facility. So you might pick it up empty, 1/4 full, or whatever. If it's nearly empty, they generously tell you whatever is left is yours. If it happens to be half full, they tell you to bring it back half full.
Let this serve as a warning for potential renters, and entertainment for everyone else. Caveat emptor. As for me, after some more searching I found a coupon for Enterprise that resulted in an even lower rate than "Deluxe" per day. (I also grabbed an additional 2% cash back from Mr. Rebates.) Kayak should really remove this company from their price comparison engine!