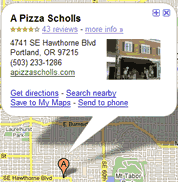 In an effort to gather even more information for Google Maps and to promote advertising on it, Google is offering now work (as an independent contractor) under the role of Google Business Referral Representative:
As a Google Business Referral Representative, you'll visit local businesses to collect information (such as hours of operation, types of payment accepted, etc.) for Google Maps, and tell them about Google Maps and Google AdWords. You'll also take a few digital photos of the business that will appear on the Google Maps listing along with the business information. After the visit, you submit the business' info and photo(s) to Google through your Local Business Referrals Center, and we'll pay you up to $10 for each listing that is approved by Google and verified by the business.
I think you can see an example here for the best pizza in Portland. $10 a pop? Seems easy enough on the surface; However, digging deeper I found a lot of variables that may affect your payday.
Referrals are approved by Google based on the completeness and quality of data supplied by representatives. Businesses verify their information either by sending us a response postcard or verifying their information online.
You only get $2 for each business approved by Google, and then $8 more if the business actually verifies your information. What are Google's quality expectations? (Do you have to do an entire spiel about Adwords?) What is the likelihood that the business will verify their info? Also, it's not clear if you can just pick any old business. You may end up earning at lot less than you think, and still owe self-employment taxes.
On the other hand, it may be fun for those that have the right combination of free time and efficiency. Get a crowded location, sell it right, and maybe make $20-$50 an hour. Soon we'll all be working for Google in some way… Found via DumbLittleMan.