I couldn't help but catch some of the news coverage about this week's continuing fallout from subprime loans, the resulting stock market wobbles, and the overall tightening of the credit market. CNBC's ratings must be through the roof. Then tonight I stumbled upon a post on the housing bubble blog Patrick.net about it being a point of inflexion:
I believe we are now at what will be seen as the inflexion point. It took a long time to get here, but the housing bubble is finally recognized as a pass? concept. The real debate now is how much and how long of a correction.
This reminded me of the graph below, which I brought up when I asked If Real Estate Prices Are Cyclic, Where Are We Now?. This was back on January 4th, 2007.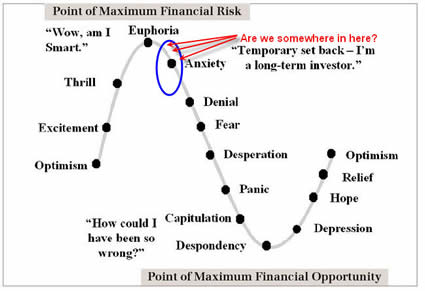 At that time, I guessed we were somewhere around Anxiety. Now, seven months later, where are we now? I'd say we've moved past both Anxiety and Denial already, and we are solidly at Fear. Mathematically, the inflexion point (aka inflection point) is where the second derivative changes sign. Guess where the inflexion point on such a sinusoidal graph is?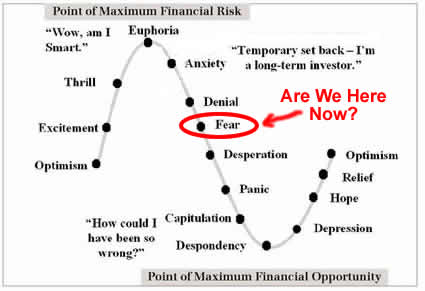 As this CNN Money article about tighter lending standard suggest, I may be well positioned to benefit from this progression:
In addition, tightened lending standards stemming from the subprime crisis likely mean fewer buyers, pushing down home prices. The one catch is this: You've got to be a buyer with good credit, a low debt to income ratio, a healthy down payment, verifiable income, and looking to finance less than $417,000 (the cutoff for so-called jumbo loans).
Bring on the Desperation! 😉