Vanguard has released a research paper called Putting a value on your value: Quantifying Vanguard Advisor's Alpha, which provides the data and methodology behind its previous statement that a good financial advisor should be able to affect the performance of client's portfolio by about three percentage points. The areas where good management can add value are summarized in the graphic below: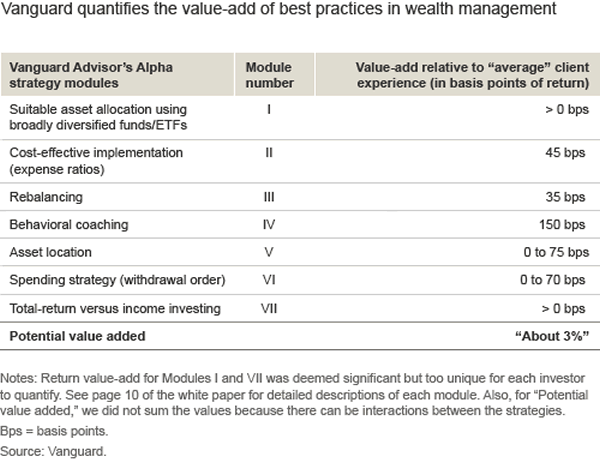 As a DIY investor, this chart also provides suggestions for areas to focus your energy. The biggest single "value-add" appears to be in the area of behavioral coaching. This basically boils down to convincing the client/investor not to abandon their previous plans during times of extreme greed (bull market) or fear (bear market). In other words, do nothing. In my previous post, I posed that a simple Vanguard Target Date Retirement fund would provide both low expense ratios and regular rebalancing – no advisor required. It turns out that if you can buy one of these Target funds and leave it alone for a long time, you'll do even better…
Vanguard analyzed the performance of 58,168 self-directed Vanguard IRA investors from 1/1/2008 to 12/31/2012, a 5-year period which includes both the financial crisis and subsequent recovery. These self-directed investors were compared with an appropriate Target Date fund benchmark. The authors even state "For the purpose of our example, we are assuming that Vanguard target-date funds provide some of the structure and guidance that an advisor might have provided."
An investor who made at least one buy/sell exchange between funds over the entire five-year period trailed the applicable Vanguard target-date fund benchmark by 1.5% annually on average. Investors who made no exchange lagged the benchmark by only 0.19%. The chart supplied is a little tricky to read, but illustrates the performance gap.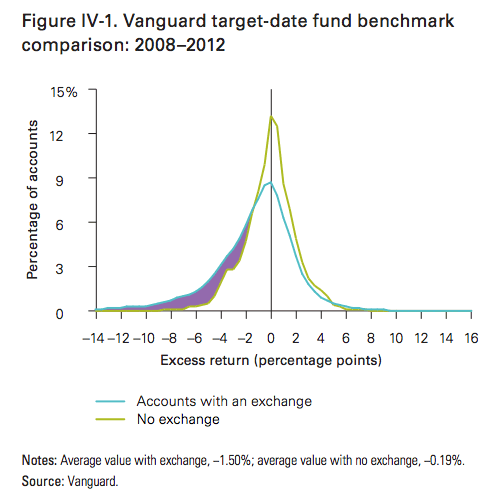 (You want more "area under the curve" on the positive excess return side, and less "area under the curve" on the negative excess return side.)
I agree a good financial advisor can add value. Many people are doing none of the strategies listed above. However, a motivated DIY investor can implement most of not all of these strategies themselves. If you can buy a Vanguard Target Retirement fund and leave it alone (easier said than done), you can get much of the way there without an advisor. The problem is that you may have to go through an extreme market cycle to know if you can actually do it. Excerpted from the paper's conclusion:
This 3% increase in potential net returns should not be viewed as an annual value-add, but is likely to be intermittent, as some of the most significant opportunities to add value occur during periods of market duress or euphoria when clients are tempted to abandon their well-thought-out investment plan.