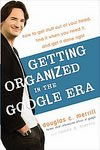 I ran across Getting Organized in the Google Era in an airport bookstore last month, and while I wasn't enamored enough to pay the $23 retail hardcover price, I did add it to my library want list. The author Douglas Merrill was formerly the Chief Information Officer at Google, so I figured he might know something on the topic of organizing data in the digital age. Here are my notes.
First of all, this is not a detailed organizational framework like that of the best-seller Getting Things Done by David Allen. It's actually more like a series of blog posts that ended up being stretched into a book. Merrill uses a very casual, storytelling style of writing with lots of (sometimes awkward) personal stories and song lyrics mixed in. It skips around a lot, from high-level organizational philosophies to tips on using Gmail to how his girlfriend died of cancer.
Organizational Principles
In the end, the book's overall theme did stick to the subtitle of "How to Get Stuff out of Your Head, Find It When You Need It, and Get It Done", and I did write down a lot of good basic principles from the book. Here they are, paraphrasing:
Don't keep stuff in your head, get it out as soon as possible. Write it, type it, say it, whatever. Either paper and digital might be better for any specific task.
Always trying to multitask can actually make you less efficient overall.
Stories make it easier to remember information.
Don't spend forever organizing your information, just search for what you need. Desktop searching, Google web searches, Gmail e-mail search, online calendars – use them to simplify things.
When overwhelmed or hitting a roadblock, break big tasks into smaller ones.
Try to integrate work with life instead of trying to balance them together. When people say the want a "work-life balance", that's usually just code for wanting to work less.
Useful Tools and Services
Another good part of the book was his list of software and websites that he found useful in organizing his life. Most are free, but some do cost money. A few are only on Mac OS X. Like I said, this seems like it would make a nice blog post… and now it is one 😉 I'm only listing the favorites.
Google. His favorite search engine, what a surprise. There are lots of little shortcuts in Google that help save you time. Want flight info? Just type the flight number in. UPS Tracking number? Just type it in. Here's a cheatsheet straight from the source.
Quicksilver. Desktop search/application management/launcher tool. Mac only. [download, free]
Gmail. The best feature of Gmail is that you can quickly search through every single one of your e-mails, reducing the need to carefully organize everything. However, using some simple labels and filters can still help you group conversations and topics. Also has good spam filters.
Adium / Pidgin. Connects to multiple instant messages services all at once. Free. Adium is for Mac, Pidgin is for Windows.
Dropbox. Easy to use, online shared hard drive in the "cloud". Good for storing, sharing, and syncing across computers. 2GB free, 50GB for $10/month. [website]
Things. To-Do List / Task manager software. [download, $49.95]
Xmarks. Put your web browser bookmarks online so you can sync across computer and access anywhere. Works with Firefox, Internet Explorer, and Safari. [website, free]
Google Health. Allows you to store and manage all of your health information in one central place. Even though I use a lot of Google stuff, I am still wary of sharing this type of data with Google. [website]
A related book that I also plan on reading soon is Upgrade Your Life by Gina Trapani of Lifehacker.