There was a lot of media coverage yesterday when Google announced that they would offer PC-to-Phone calls to US and Canada numbers for free from their Gmail interface. To try it out if you haven't already, just log into your Gmail email account.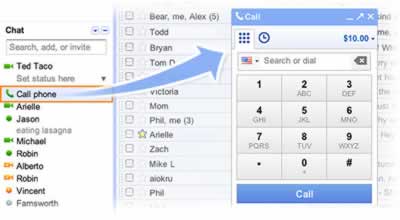 But wait… Google Voice (GV) has offered free US long-distance for a while already, and they'll call your landline or cell phone so that you don't have to sit by your PC and use a headset. Much more convenient in my opinion, even though I still love my Ooma. I primarily use GV for their voicemail transcription feature.
On top of that, let's say you live in Texas and a big chunk of family and friends live in San Francisco that use landlines. Sign up for a Google Voice number with a San Francisco area code, and have your friends call that number. It'll count as a local call for them, and will be forwarded for free to your existing phone.
However, this does make it more convenient to use, since Google's service works within a web browser (plugin required) instead of a separate application. Skype might have to drop their prices as well, since they charge 2.1 cents a minute or $3 a month unlimited for the same features. Another perk is for international residents that want to call into the US for free, it appears you just need to have Gmail and have the default language set to "US English".