The following is a guest post from my wife, aka Mrs. MMB. I was whining like a spoiled child about how I needed to write up extra posts for when we're traveling this week, so she kindly offered up her own tips.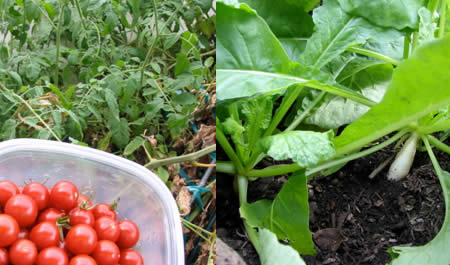 Jonathan and I love eating fresh foods, and it tastes even better when we harvest it straight from our yard. We don't actually have much space – just a 9 foot wide strip of land next to our house – but our garden is now so plentiful, that we are able to incorporate fresh veggies and herbs into almost every meal that we cook at home. Although the initial start up costs added up (a new garden and soaker hose, soil, and seeds), here are some frugal gardening tips that I learned:
Buy seeds. Seeds take a little longer to grow, but are much cheaper than seedlings at Home Depot. For example, one packet of thirty bell pepper seeds cost $1.99, where as one seedling costs $.99 to $3.99, depending on the size of your seedling.
Trade seeds with your friends: I always have an excess of seeds (I don't really need 30 bell pepper plants!), so I bring my seed packets and extra seedlings to work and trade them with friends and co-workers. I also like to trade cuttings with co-workers; mint and sweet potato are especially easy to grow from cuttings. That way, I always have a variety of seeds and plants on hand, all for a very reasonable price of free.
Make your own compost. Like any gardener, I have a daily battle with pests and clay soil, but I try to do everything organically with things like Neem oil and self-made compost. Compost enriches our soil, and it decreases the quantity of kitchen scraps that go into our trash. Coffee grounds are especially rich in nitrogen and something that I would have otherwise thrown out. I really dig the fancy commercial compost bins, but they can easily cost more than $100 for the bin. Instead, I made my own compost bin from extra pieces of plywood and chicken wire. There are a lot of DIY compost bin instructions on the internet. I'll be upgrading to a bigger bin soon, but for now, my little bin produces nice earthy compost.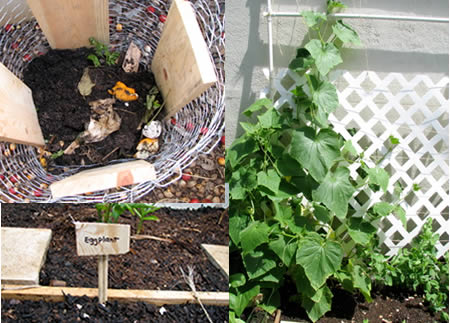 Recycle! I love the idea of reusing household trash, and I use take-out chopsticks to label plants, an old milk carton to collect kitchen scraps, a plastic orange juice container as my "watering can", and as an alternative to expensive jiffy pots, I like to use egg cartons to plant seedlings. Recycling, can also provide excellent alternative to expensive bell jars: I recently had a problem with especially voracious pill bugs, and I now use old water and soda bottles as cloches and bell jars to protect the seedlings from the bugs.
I also wanted pretty trellises, but a fancy manufactured trellis, though very pretty, can be expensive. Instead, I made trellises with inexpensive PVC pipes and a recycled old plastic fence that we would have otherwise thrown out. I simply screwed the PVC pipe onto the fence and bought a couple of two-foot rebar poles ($2.99 each) to anchor the "new" trellis into the ground. Voila! A vertical space for cucumbers, peas, and morning glories for less than $10!
Overall, I spend a few hours every weekend weeding, sowing, transplanting, and tilling, and 15 minutes everyday watering and harvesting goodies for our dinner. While I agree that gardening is not for everyone, I find gardening a very relaxing and rewarding hobby.