Unhealthy food is a lot cheaper than healthy food, on a price-per-calorie basis. This is illustrated in this chart about how many calories you can buy for a dollar from the Lapham's Quarterly magazine, which corresponds to my own research ranking how much 200 calories of different foods cost:
Cost of 200 Calories: Less than 50 cents

Glazed Donut
$0.23

Potato Chips
$0.33

Snickers
$0.40

Gummy Bears
$0.40
.
Cost of 200 Calories: Over $1.00

Dried Apricots
$2.19

Baby Carrots
$2.50

Grapes
$2.55

Red Onions
$1.35
Recently the NYT Economix blog charted the historical change in price for different food categories relative to overall CPI inflation since 1978. This shows that the price gap is growing. For example, the the price of soda has dropped more than 30%, while the price of fresh fruits and vegetables has gone up more than 30% (both relative to other prices in general).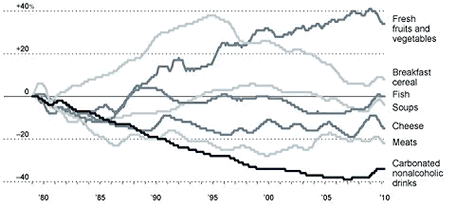 Source: NYT, BLS
It is pointed out that it costs about $5 to buy 2,000 calories at McDonald's, $19 to buy 2,000 calories worth of canned tuna and $60 to buy 2,000 calories worth of lettuce.
But I'm not sure this means what we think it means. Do people really buy junk food because they need cheap calories? I think most unhealthy people get plenty of calories. Also, if you simply ate mostly rice and beans, you'd get plenty of calories for even less than McDonald's. If all foods were the same price, would we really eat that much better? Perhaps it would help, but I don't think lower prices would solve obesity.
I think the problem is people just eat what they want, and what they want happens to have way too many calories. If more health problems are caused by being overweight than malnutrition, then unhealthy people need less calories more than they need "better nutritional quality" calories. There are many studies that show that the less calories you eat, the longer you'll live. Even severe calorie restriction (near-starvation) is believed to result in longer lives in a variety of animals including mice and monkeys.
What do people in countries where starvation is a real concern eat? Mostly rice with a little fish for flavor. Mostly beans and lentils with spices for flavor. Mostly cassava with a little meat and vegetables for flavor. They don't eat a huge variety of things, and they eat mostly carbs. But they eat a lot less. If we can't lower the prices of healthy unprocessed food, maybe we just need to eat less in general. But that takes self-control, which can also be hard to come by.