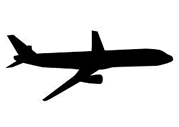 Cashing in your frequent flier miles for a free flight can be hit or miss, especially around a holiday. Which airlines are the most generous with making seats available? Each year, consulting firm IdeaWorks tries to run a fair comparison of all the major airlines to keep them honest. This WSJ article (paywall?) discusses their process:
In March, IdeaWorks searched for two award seats together on various travel dates between June and October on each airline's busiest routes. Seats have to be available at the airline's lowest everyday price—typically 25,000 miles round trip for a domestic coach ticket. The company made nearly 4,000 queries.
Below are the rankings of the 6 major US airlines. It is important to remember that this ranking focuses on domestic economy tickets only (no business class or international flights). The article does also rank international airlines on availability from a related metric.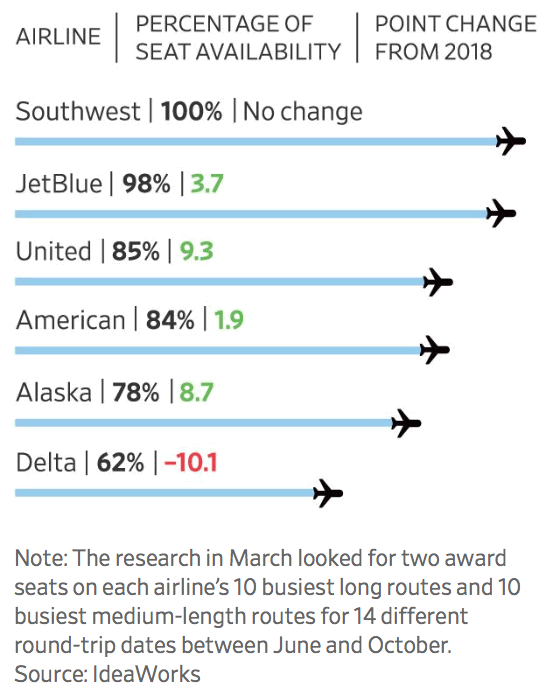 For 2019, the most improved airline is United Airlines, while the worst decline goes to Delta. Not surprisingly, United claims this was totally on purpose because that's what customers want and they are all about that… Meanwhile Delta suggested that the change was simply a result of more demand because their program is so popular. Shrug.
If you fly a lot on United, you can get significantly expanded award availability with the Chase United Explorer card. Add in the free checked bag for you and a companion, and the perks can easily offset the annual fee.
Southwest and JetBlue remain on top at close to 100% availability, but that is a bit misleading since both of their points are revenue-linked with no blackout dates. For example, 25,000 Southwest points will buy you basically any "Wanna Get Away" ticket that costs up to about $375. So the results are really just saying that Southwest's busiest routes almost always have a flight that costs under ~$375. JetBlue is only 98% because some of their flights are just over the price threshold. I wonder if they included flights to Hawaii, now that Southwest flies there?
I have come to appreciate the simplicity of Southwest's structure, especially now that I primarily shop for multiple economy tickets. For example, you can reliably value their credit card bonuses of 40,000 points = $600 in Wanna Get Away airfare, and 80,000 points = $1,200 of Wanna Get Away airfare. I can buy five seats on the same flight, no problem. Others prefer the traditional, more complex structure because it offered the skilled person the chance to get outsized value, like a $3,000 ticket for 50,000 points.
Airlines make a huge percentage of their revenue from selling these airline miles, which they create out of thin air both for actual flying and specifically for credit card users. This also means they have an incentive to create "miles inflation" such that each mile is worth less and less over time. I like this annual WSJ survey because it shows that someone is paying attention and calling them out publicly, at least on seat availability.