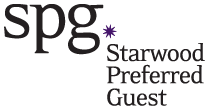 Updated. Here are some quick deals for some free Starwood Preferred Guest (SPG) points. I'll try to update this post instead of making new ones in the future. These are handy for extending the expiration of all your points, which otherwise may be lost after 12 months of inactivity. Also, they'll get me a tiny bit closer to a Heavenly Bed in some foreign country. 😉
150 SPG Points for Security Questions. Starwood wants to improve their security with a set of questions. The questions try to be clever and I had trouble answering them, but I'll do it for the free points (and then copy the answers in my password manager). Visit this link, answer the four questions before 10/31/15, and you'll get 150 points. Don't use Chrome browser for iOS.

There is no indication of promo on the page. See this FT thread by an official Starwood representative for proof this is legit. Selected fine print:

*Bonus offer: Member can earn a onetime bonus of 150 Starpoints after selecting and answering four (4) security questions on spg.com from October 8, 2015, through October 31, 2015 (the "promotion period"). This promotion is not transferable. Offer available to existing SPG members only (as of 10/8/15). Bonus Starpoints will be credited to the member's account within 2–4 weeks of the close of the promotion on October 31, 2015.

200 SPG Points for E-Statements. First, make sure you are not signed up for Starwood Preferred Guest E-statements. Log into your online account and go to Manage My Account > My Profile > Communications Preferences and make sure the box is unchecked. You should get an e-mail confirmation of any saved changes.

Next, either make sure you are logged out of your account or open a new Incognito window. Now visit this SPG Dashboard link and look for this offer at the bottom of the page. Click both checkboxes and Update Your Account. You should probably also register for the promo on the right as well.

Don't unsubscribe from these e-mail newsletters until your points post in 2-4 weeks. See selected fine print:

An eligible member can earn 200 bonus Starpoints for opting in to the email subscription(s) in the form field on the SPG Dashboard and clicking "Update Your Account." A member can only earn the bonus once during the offer earn window, which ends Nov-24-2015. A member must subscribe to all of the displayed email subscription(s) using the form field on the SPG Dashboard for the Starpoints to be earned. Bonus Starpoints can take up to 2 to 4 weeks to post to your account after confirmation that you have successfully subscribed.
I always make sure my wife's SPG account also does these deals, as it extends her account activity and you can transfer points over within the same household (with same physical address).