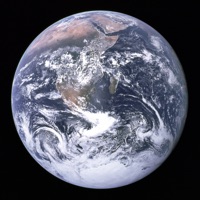 One of the decisions a DIY investor needs to make is how much international stock exposure to add to their portfolio. Recently, the US stock market has had much higher returns than non-US stocks overall, including Emerging Markets. But this Vanguard article reminds us of the diversification benefits of adding international stocks. Somewhere between 20% and 50% is the historical sweet spot: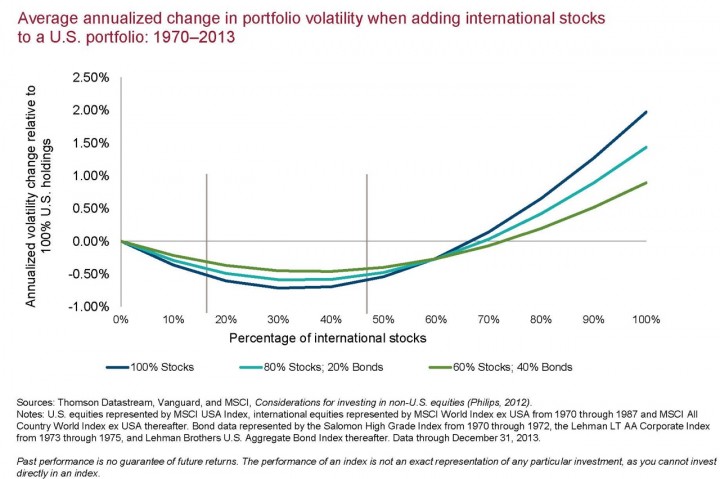 Vanguard says 60/40 is best. Over the past year or so, Vanguard has shifted their "ideal" stock asset allocation to 60% US and 40% international. This is the breakdown used for their Target Retirement 20XX funds, their LifeStrategy funds, and also their 529 College Savings Age-Based portfolios. Part of their justification is that the expense ratios for their international funds has dropped as well.
World market cap weighting is at 52/48. What do the global capital markets have to say? The world market cap weighting has shifted to 52% US and 48% non-US, as tracked by the Vanguard Total World Stock ETF (VT). VT tracks the FTSE Global All Cap Index which is a free-float-adjusted, market-capitalization-weighted index.
I like simplicity and symmetry, so I am sticking with 50/50. I'm just one amateur, but I feel the trend is towards a market-cap weighting. 50/50 isn't all that far from 60/40, especially because my overall asset allocation will soon by 60% stocks and 40% bonds. 50/50 is also really easy to rebalance and makes my portfolio looks nice and symmetrical.
Want some support to own international stocks? If the recent poor performance of international stocks has you down, Research Affiliates recently updated their Expected Returns Chart (mentioned previously) and it shows Developed European, Developed Asian, and Emerging Market stocks having a much better outlook than US stocks: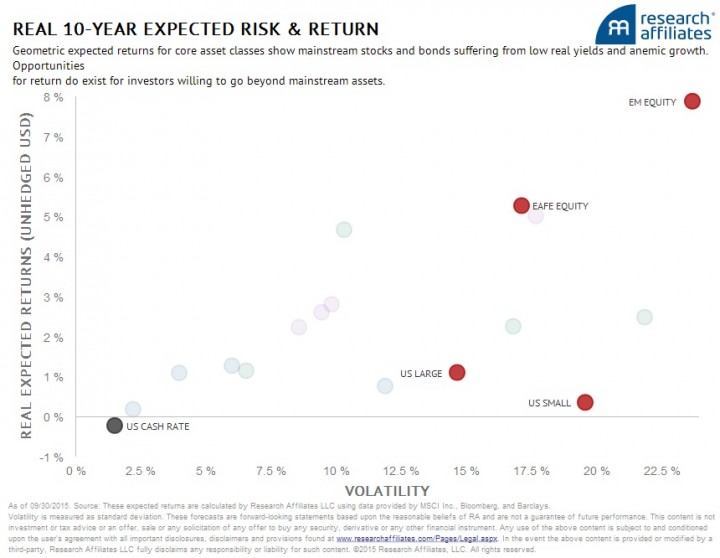 They use a mix of different historical valuation techniques to make these forecasts, so they aren't just pulled out of thin air.
Want some support to NOT own international stocks?
While it is hard to argue against the historical diversification benefit of owning some international stocks, I don't know if it is absolutely necessary. If you bought big chunk of the S&P 500, and a smaller chunk of US Treasuries, and ignored it for 30-40 years, you'd probably come out pretty happy. Some big names would agree:
One argument is that many US companies already make a huge chunk of their money from their international operations anyway.
So there you have it. I hope you are sufficiently confused. 🙂