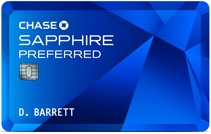 This is a follow-up on the previously mentioned 50,000 bonus points offer (converts to $625 in travel) for the getting the Chase Sapphire Preferred® Card. Thanks to readers Paolo and AT, they shared a way to get double those points, even if you've already applied.
Apparently, some people were recently mailed targeted offers for the same card, but with 100,000 points (converts to $1,000) instead. The problem was, you needed a special invitation code so there was no public application link. However, some clever folks who already applied for the 50k offer asked nicely for Chase to match with the offer code S6V, and many success stories have been reported on FW.
I was just able to successfully get 50K applied to mine and my wife's accounts (just applied this past Sat. night in fact) and it was really painless, took 5 minutes. 200,000 total!
So the plan of attack would be:
1) Apply for the 50k offer. That's the best available offer, and even by itself is a great offer worth $625 in travel. If you've already applied, skip ahead to:
2) Ask politely for a match of the new 100k offer. After getting your card, use the Chase website to send an online secure message requesting a match of the new, improved offer. There are no guarantees on this – you should be prepared to be happy with the $625 bonus – but it's definitely worth a shot and I'd do it sooner than later. Use this helpful script from Paolo:
Dear Chase Representative,

I just this past weekend applied for my new Chase Sapphire Preferred card with a 50,000 sign up bonus of 50,000 points after spending $4,000.

Today, I learned of a new offer S6V which promises 100,000 bonus points. I would be very grateful if you would extend the 100,000 bonus point offer S6V to me as well since I just applied for the Chase Sapphire Preferred card.

I have been a long time customer of Chase, and have had my primary checking and credit card accounts with Chase for many years and hope to maintain them for many more years to come!

Kind Regards,

[Your Name]
I would customize this to your personal situation, mentioning your length or size of relationship with Chase if applicable. Update: Some people are reported that this window of opportunity has been closed.
"Disclaimer: This content is not provided or commissioned by the issuer. Opinions expressed here are author's alone, not those of the issuer, and have not been reviewed, approved or otherwise endorsed by the issuer. This site may be compensated through the issuer's Affiliate Program.  "The responses below are not provided or commissioned by the bank advertiser. Responses have not been reviewed, approved or otherwise endorsed by the bank advertiser. It is not the bank advertiser's responsibility to ensure all posts and/or questions are answered."