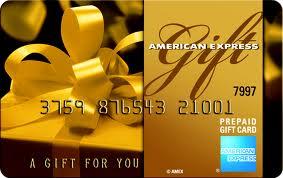 American Express Gift Cards are basically prepaid credit cards that work anywhere that accepts American Express. The good thing is that they have no inactivity fees, no maintenance fees, no balance check fees, and they never expire. Other than for gifts, they are especially useful whenever you need to accelerate or time-shift your credit card purchases to be earlier than they actually are.
Here's what I mean by that. A common problem you might have is that your credit card that earns frequent flier miles, and need to earn a certain number of miles to reach your next award or qualification tier. However, you want to redeem now, so with these gift cards your miles can show up faster.
Also, recently there have been a lot of great credit card sign-up offers that require you to spend $XXXX within a certain amount of time. For example:
Chase Sapphire Preferred offering $400 in cash or $500 credit towards any major airline purchase – requires $3,000 in spending within 3 months.
Starwood Guest Credit Card from American Express offering 25,000 Starpoints worth several free hotel nights or other perks – requires $5,000 in spending within 6 months.
Citi AAdvantage Visa offering 50,000 American Airlines miles – requires $3,000 in purchases within 3 months.
Whether you have a Visa, MasterCard, or AMEX, you can simply buy these gift cards and they'll count as rewards-earning purchases now, and you can use them up later at any merchant that accepts American Express. All the grocery stores I frequent take AMEX now. This way, you can either make the deadline or simply meet it early without worrying.
Finally, they can provide some anonymity when shopping, while mostly preserving your flexibility.
There are two additional fees that you have to worry about. First is the purchase fee, which is usually $3.95 per card. There is usually a promotion code floating around to waive these. They send me a promo code via e-mail EMDECWEL that will waive any purchase fees until January 31, 2011.
Next, there is a shipping and handling charge. Right now, 2-day expedited shipping is $5.95. However, if you sign up for their "Premium Shipping Plan", you can get free next-day air shipping trial for 90 days. You must cancel before the 90 days is up, or get charged $99 per year. I actually opted just to pay the shipping fee this time.
During this promotion, customers who have enrolled in the Premium Shipping Plan may use the Plan at no cost for the first ninety (90) days after enrollment ("Trial Period"). The Premium Shipping Plan membership fee of $99 per year will be charged to customers ninety (90) days after initial enrollment if customer does not cancel membership through the Gift Card Account portal online prior to the expiration of the Trial Period.
By the way, for some reason, American Express does not ship gift cards to the states of HI, LA, and VT.