I opened up a savings account at FNBO Direct originally for their high interest rate and no monthly fees. They are currently offering 0.85% APY as of January 2013, still competitive in this current rate environment. Here are my experiences so far as well as some first impressions of this online savings account:
Legitimacy and FDIC Insurance
FNBO Direct is a division of the First National Bank of Omaha, which is a member of the FDIC. If you call the First National Bank of Omaha, they will confirm this link and the website. For the techie folk, the nameservers and IP address range of FNBO.com and FNBODirect.com are the same. Combined with the fact that this account has been around for months, I see no need to worry about the legitimacy of this bank. Many banks choose to distance their online branches from their existing customers, as they are trying to gain new money and low-cost customers who are comfortable with things like electronic statements and online banking.
Opening Process Overview
The opening process went very smoothly. The CashEdge-based application is similar to that of HSBC Direct, but unlike with HSBC there is nothing to wait for in the mail. Nothing to send in either; No paper needed at all!
The application does include an identity verification test based on information from your credit reports. This is identical to what Washington Mutual does for its online savings account. If you have troubles with this, I recommend checking your credit reports for errors. However, a hard credit pull is not performed so it won't affect your credit.
You can fund via wire transfer, online transfer, or by mailing a check. Here was my timeline:
Day 1:

Apply online, pass identity verification. Receive e-mail that application was approved. I chose to do an online transfer. Trial verification deposits were sent to funding bank.

Day 2:

Trial deposits received, and verified (free 57 cents!). FNBO Direct initiates funding transfer.

Day 3:

I receive my new account number via e-mail, and enroll for online account access. Initial deposit hasn't showed up, but should go in on Monday (see below). I can add link additional accounts (max of 3) and initiate other transfers.
Account Features, Transfers and Usability
Features
Overall, your basic Capital One 360 clone – $1 to open, no monthly fee, no minimum balances. Otherwise, it's pretty barebones. No checks. No ATM rebates. You can request an ATM card, which I did, but since it costs $2.50 for each cash withdrawal, I never plan on using it. Here is their complete fee schedule.
Of course, we all know the best feature is the 6% APY interest rate 😉
Transfers
Again this is the familiar CashEdge interface behind the online fund transfers of banks like Bank of America, Presidential Bank, and HSBC Direct. All transfers are free, and the transfer limits are very generous. The transfer schedule appears to be identical to that of HSBC Direct, and takes three business days. (Worst case: If you initiate on Thursday, money is taken out on Friday, but deposit won't show up at receiving bank until Tuesday.) I know many people dislike these slow transfers, so you should be aware. Here is a screenshot of the schedule: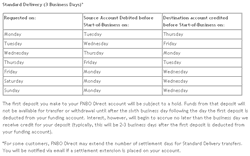 Note that your initial deposit will not be available for withdrawal for six business days, probably for security reasons.
Usability
The interface is very simple and utilitarian. I like it. There are only three tabs – View Accounts, Account Services, and Transfer Funds. (Click for a full screenshot of the interface.)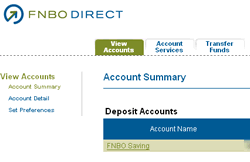 More Information
Customer Service: 877-370-3707, open 24/7.
I've called customer service a couple of times, and they do answer and are helpful. Hold times may last a few minutes, but it's probably due to the recent rush of applicants.
Number of external bank account links allowed: 3
ABA Routing Number: 104000016
I asked them if I could set up third-party transfers like paying my credit card bill with the routing and account numbers, and they said that would be fine. Hopefully it stays that way…
Download formats available: I see no options at all for this. No MS Money, Quicken, or even .csv options.
Interest compounding frequency: Interest is calculated daily and is compounded and credited monthly. Remember, how often interest is compounded really matters very little, especially if you are comparing APYs.
Source: The official website for this online savings account is http://www.fnbodirect.com