A recent article by Scott Burns talked about investing in deferred fixed annuities with CD-like qualities, an example offered a 3% yield guaranteed for 5 years plus no surrender charges (similar to early withdrawal penalty) after 5 years. This is a better rate than current bank CDs offer, and annuities can grow tax-deferred for those saving for retirement (withdraw as early as age 59.5)*. After the 5 years, you roll the annuity over to another company if the new rate is no longer good enough. These are also referred to as MYGAs (multi-year guarantee annuities). The catch? The annuities that have the best rates often don't have the highest credit ratings.
A possible solution? Make sure you stay under the coverage limits of your state's Life & Health Guaranty Association. From NOHLGA.com:
State life and health insurance guaranty associations are state entities (in all 50 states as well as Puerto Rico and the District of Columbia) created to protect policyholders of an insolvent insurance company. All insurance companies (with limited exceptions) licensed to sell life or health insurance in a state must be members of that state's guaranty association.
These are not federally-backed like FDIC insurance. Instead, all the member insurance companies agree to cover each other in cases of insolvency up to the policy limits. In order to be a licensed insurer, you need to maintain a certain level of financial stability. But just like banks, some insurers are stronger than others. So if you're going to go over the limits, the standard advice is to go with a top credit rating from AM Best, Moody's, or S&P. However, credit ratings can go down over time, and you may be holding these annuities for many years. Therefore, it's still safest to stay under the limits.
(You may not hear much about these guaranty associations because it is illegal for insurance brokers to use them in advertisements as a reason to buy annuities. I find this somewhat ironic, considering all the misleading statements they are allowed to make about equity-linked or equity-indexed annuity products.)
While they vary from state to state, virtually all states offer at least $100,000 in coverage for withdrawal and cash values for annuities. (Connecticut and Washington offer $500,000 in coverage. In California, the limit is 80% not to exceed $250,000.) Look up your specific state's limits here or here.
In order to maximize your coverage, the process is similar to that for FDIC insurance – spread your money across different institutions and use different ownership titles. Let's say you have $100,000 in state annuity coverage. The details may vary by state, but for many states that number is per owner designation, per company. The Mr. Annuity website has a helpful article [pdf] about how to structure your annuities to maximize your coverage.
If a client has $300,000 and wants to make certain all the money is protected, including future interest earnings, while taking advantage of the highest rate possible, we set up 3 contracts in Company A for $80,000 each. In annuity 1, the husband is the Owner and Annuitant. In annuity 2, the wife is the Owner and Annuitant. In annuity 3, the husband and wife are Joint Owners with the husband as the Annuitant. Then, we'll put $60,000 in the next highest rate we can find in Company B, normally with the husband as Owner and Annuitant. That way, as the money grows, it will be protected under the guaranty laws because they are covered up to $100,000 per owner designation, per company.
I made a quick illustration of this theoretical example: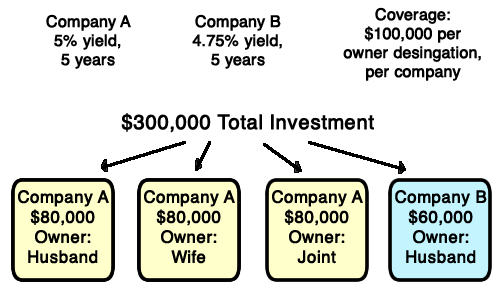 Notice that you need to leave some room for growth, that way your future earnings are covered as well.
* I'm not saying these annuities are a great deal for everyone. If you are in a situation with a high-income and are already maxing all your other tax-deferred accounts like IRAs, 401ks, and are still looking for safer retirement investments with steady growth then this might be an option to consider due to the ability to get tax-deferred growth with rates competitive with current bond yields. I'm still in research mode.