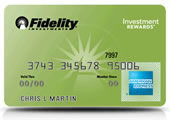 If you're looking for a solid cash back card and are willing to open a Fidelity account (or are an existing customer), then you should really consider the credit card offerings from Fidelity, especially the Fidelity Investment Rewards American Express Card.
This card earns a flat 2% cash back on purchases, as long as you deposit the money into an eligible account at Fidelity:
Fidelity Cash Management Account
Fidelity Brokerage account
Fidelity-managed 529 account
Fidelity Retirement account (IRA, Roth IRA, SEP-IRA, Rollover IRA)
Once your 2% rewards balance goes over $50, it will automatically deposit into your linked Fidelity account. I used to have my money go into a Fidelity 529; I think their investment options are okay but not the best, but this way you won't spend your rewards on something frivolous. However, these days I just have it deposit into my brokerage account so I can invest it. An IRA would be too confusing for me due to the stringent IRS contribution limit rules. (If you've maxed out the limit, they say that they will automatically defer the rebate until the next year. But what if you have a partially phased-out limit due to income, and your limit is reduced to $2,350? How would they know that?)
In terms of catches, it's mostly that you have to open an extra Fidelity account if you don't have one already. It appears that the Fidelity Cash Management account has no opening minimum, but if you want to make some trades the Fidelity brokerage account you will need $2,500 to open that (no ongoing minimum balance requirement). I would open your Fidelity account first to make sure you have no issues.
Note also that the rewards only come in $50 increments:
Customers earn 2 points for each $1 in net retail purchases. Once you reach 5,000 points, they can be redeemed automatically or on demand for cash at a 1% exchange rate into an eligible Fidelity account (i.e. 5,000 points = $50 deposit).
So a $49 rewards balance = $0 in your pocket. It will roll over each month until the balance goes above $50, when the entire thing (i.e. $62.54) will arrive in your Fidelity account. Then the $50 hurdle kicks back in. So it is a little harder to time a cash out of your remaining balance if you wanted to close the account (but why would you?).
Finally, it is an AmEx and not a Visa/Mastercard, but I've found the number of merchants accepting American Express much improved since 10 years ago although there are still gaps in areas like utilities, insurance, and small mom & pop restaurants and stores.
But really, with no annual fee, this card and the Citi Double Cash card have raised the bar for a "basic" rewards card to 2% cash back at the very minimum.