Updated to state that Betterment has updated their agreement to eliminate any outgoing ACAT transfer fee as of February 2014.
We're building a better ACAT transfer system to reduce the fee to $0. In the meantime, we are eliminating that fee effective immediately.

— Betterment (@Betterment) February 25, 2014
Original post: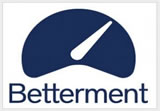 Online portfolio managers are a hot area right now, and Betterment.com is one that promises "we do everything for you" simplicity combined with relatively low costs when compared with a human advisor. Recently, a reader named RSG left a comment:
In the updated user agreement, Betterment will charge a fee of up to $1000 for an in-kind transfer! That's absurd and way higher than industry standard for other broker-dealers.
An in-kind transfer, also referred to as a full Automated Customer Account Transfer (ACAT) transfer, is where all of your holdings are transferred to another broker-dealer. Since you don't sell any positions, any potential tax complications are avoided. I agree that this fee is around $75 at most brokers, so naturally I wanted to verify this claim.
I could not locate any notice of this fee anywhere on the Betterment.com website, even on their "pricing details" pages. The only place I could find it mentioned it is buried on page 59 of their 139-page customer agreement [pdf] last revised on 1/15/2014.
23. Transfer of Assets. Client may request transfer of Assets to an account Client has established with another broker-dealer. […] The fee provisions of the Brokerage Agreement and Advisory Agreement notwithstanding, Betterment Securities may charge a fee of up to $1000 for transferring assets to another broker-dealer.
I opened a $1,000 test account with Betterment myself and I admit that I totally missed this fee. I also verified this by contacting Betterment support staff, and here was their response:
Unfortunately this is not something that Betterment supports right now so we would bring in a third party to do an ACAT transfer. This process costs a fee of $1,000. Again, simply liquidating the funds is completely free.
Update: Immediately after this post brought up the issue, Betterment updated their agreement to eliminate any outgoing ACAT transfer fee as of February 2014.