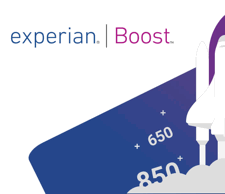 If you're also guilty of watching more TV these days, you may have seen this strange TV commercial (embedded below) for a product called Experian Boost that promises to "boost your credit score instantly". Usually, good honest products don't need a gimmicky commercial, so I was skeptical. I assumed that Experian would make you pay somehow to improve your credit score. It turned out I was wrong. The service is free and even makes logical sense, unlike the commercial.
Basically, the idea is that you can include your on-time payments to utility companies like telephone, internet, electricity, gas, and even cell phone bills. Here are some additional details:
Experian Boost only includes on-time payments, so it can only improve your credit score and never makes it worse than before. Note that unpaid utility bill debts have always been able to decrease your credit scores.
Proof of on-time utility payments are made by linking your bank or credit card accounts, where you must submit your username and password (much like linking between online savings accounts). They claim the usual SSL encryption and bank-grade security measures. When analyzing your transactions, they are looking for at least 3 payments within the last 6 months.
"Experian Boost applies to most credit scores that lenders use, including the base FICO® Score, as well as bankcard, mortgage, and auto scores." Good that it includes the other FICO "flavors".
Experian Boost only changes your Experian credit report, so it won't affect your TransUnion or Equifax-based scores. Not all lenders check Experian.
How much can Experian Boost improve your credit score? Here's what they say:
Based on data from Experian, 10% of people who previously didn't have enough information in their credit file to have a credit score became scoreable after using the tool. Also, 75% of people with a FICO® Score below 680 saw an improvement in their score after adding utility payment information to their report.
The TV ad claims "my credit score went up 13 points!", so we should have relatively modest expectations. In addition, the above quote suggests that the improvement will be more significant for lower credit scores. My scores are relatively high, but I decided to try it out anyway, if only to make sure that it is truly free.
Here's the initial sign-up page, which confirms how they know you paid your utility bills: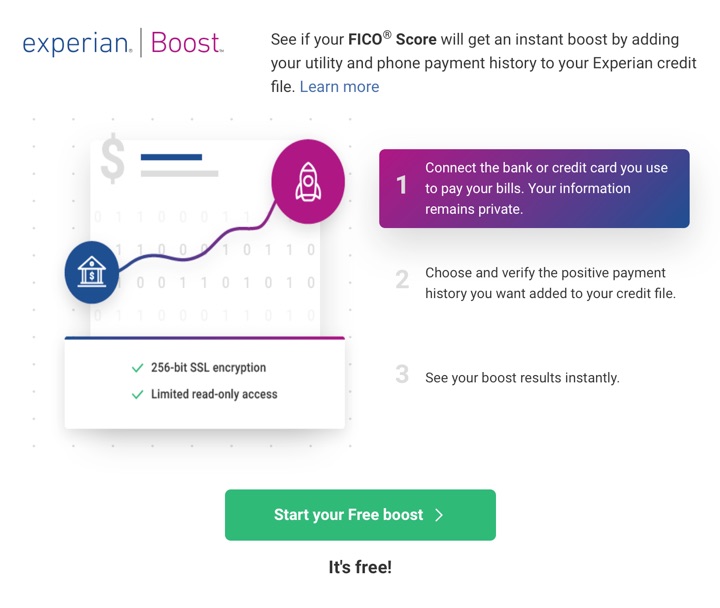 Here's my credit score before adding any utility information. I have an excellent credit history already, and it was an ominous sign that there was no number in the "average boost" section. I feel like it usually says something like "+10 points average boost" instead of a blank space.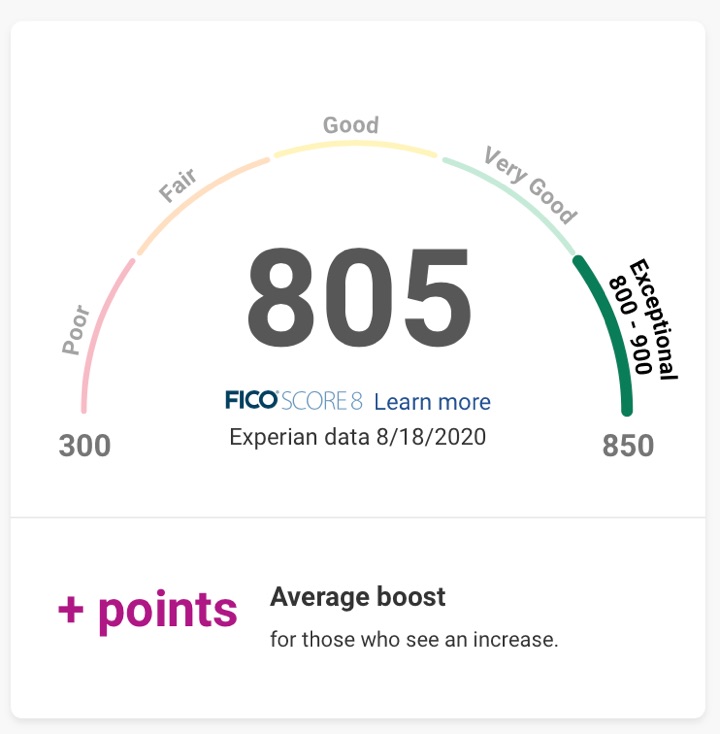 I have an existing free account at Experian, and declined the option to upgrade to their paid tier. I was able to proceed without ever giving them any credit card or bank payment information, so this is not a free trial. It is completely free.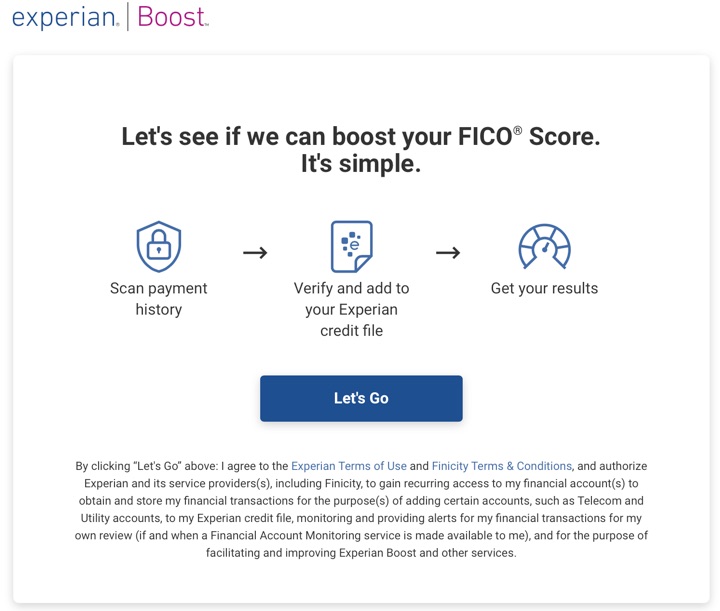 The process is just like linking other accounts via Plaid and similar services. You provide login information and also have to input any two-factor authentication tokens (text message codes, etc).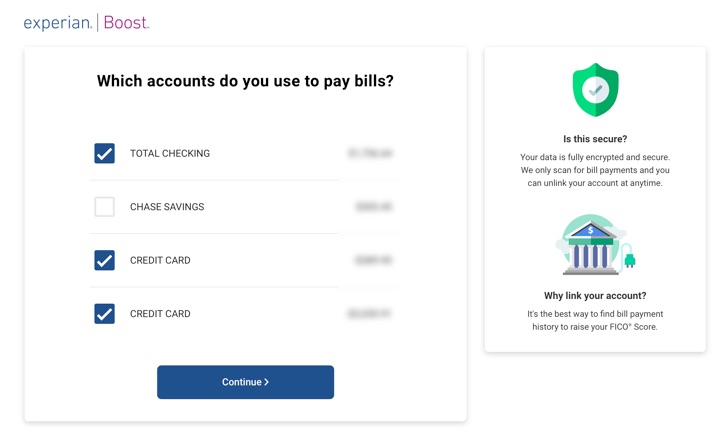 It does take a few moment for them to scan your transactions, but it should complete while you wait. (In other words, not quite "instantly", but close enough.) This is where I got the information that they are specifically looking for a history of at least 3 payments in the last 6 months.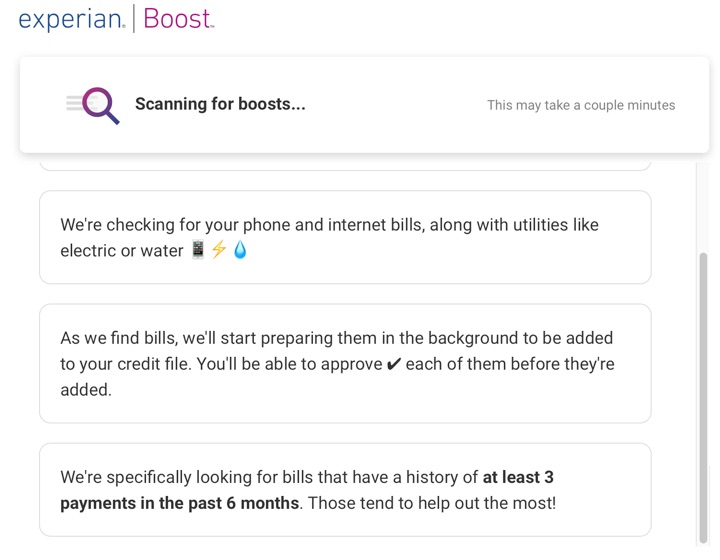 After completion, you will receive an e-mail confirmation:

After adding my self-reported utility accounts, I was rewarded with… no FICO score increase. Here's the message I received: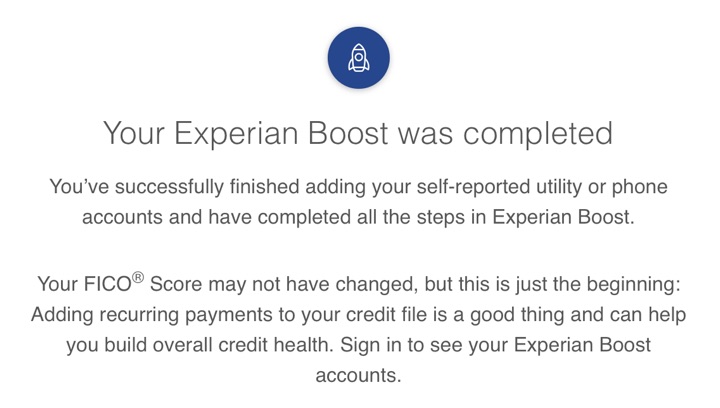 I guess it makes sense. Previously, I already had a long history of evidence that I was highly likely to pay any debts. After considering this additional evidence… I was equally likely to pay back my debts. Experian Boost is probably best for those that have a few blemishes and could use a little positive evidence added to the mix.
Bottom line. Experian Boost is a free way to potentially improve your Experian-based credit score by adding on-time utility and phone bill payments. I tested it out and it was indeed free with no credit card required nor trials to cancel, although you will have to share your bank transaction data. Although free to all, this service will be more helpful for those with a few dings and blemishes on their credit report.