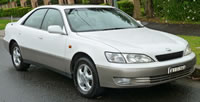 Car pricing website Edmunds.com just finished up a year-long series called the Debt-Free Car project.
Their goal was to explore an alternative to "Buy Here, Pay Here" car lots, which target lower-income folks with poor credit. These lots usually sell a 5-10 year-old car for a high total cost by combining a low down payment and a long stream "affordable" monthly payments. Think of them as the payday loans and rent-to-own TV and furniture stores of the car world.
With an initial budget of $3,500 and the simple criteria of a reliable brand car with an odometer under 165,000 miles, they eventually settled on a 1996 Lexus ES 300 sedan with 135,000 miles that cost roughly $3,300 ($3,800 including tax, title, and fees). They took the average monthly payment of a "deep subprime" borrower of $365 (per Experian) and made that their maintenance budget.
Over the next 13 months, they drove that 16-year-old Lexus another 18,000 miles and spent $3,286 in repairs and maintenance. This included both preventative maintenance things like new tires, new battery, oil changes, etc. as well as two breakdowns and other unexpected repairs. This worked out to $253 per month, under their maintenance budget but high when compared to the purchase price. On the other hand, many of the repairs won't be repeated for a while and 18,000 miles is higher than average. They ended the experiment by selling the car to an Edmunds employee for $2,700, although they probably would have gotten more on the open market.
Overall, I think this was a neat experiment, and definitely worth a read. The $3,500 + 16-year-old car is lower than my sweet spot of around $8,000-$10,000 + under 7-year-old car, as I'd trade faster deprecation for fewer repairs. Still, the idea of paying cash for a car definitely fits in with my car affordability rule-of-thumb. If you stop thinking of affordability in terms of monthly payments, you can save a lot of money.
You'll also need to find a good independent mechanic, as the NY Times points out. Recently, I've found Yelp to be very helpful in this regard, although some good places have gotten really overbooked. For many years pre-Yelp, I was a loyal customer of Art's Automotive in the East Bay of the San Francisco Bay Area (Japanese brands only).