Update: This promo has also been sold out.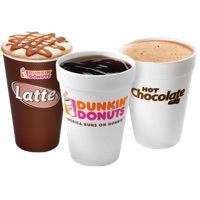 Here's another caffeine promo from Dunkin Donuts: Buy $50 worth of Dunkin gift cards, get $30 in promo gift cards. There is a banner at the top and you must use buy via this specific page, but you can use any credit card. You can buy physical gift cards with free USPS First Class shipping, but the free promo gift cards are digital-only. You can also explicitly buy it for yourself. Here is the fine print:
Minimum purchase of $50 in total Dunkin' Gift Cards during one transaction on www.giftcards.dunkindonuts.com only. Excludes Dunkin' Gift Card purchases in Dunkin' restaurants, app, bulk, and 3rd Party locations. Limit $30 in bonus eGift Cards per customer from 12/18/19 – 12/25/19 or while supplies last. The $10 promo eGift Card must be enrolled on the Dunkin' App, dunkindonuts.com or redeemed at a participating Dunkin' locations by 1/31/20 to receive promotional $10 value.
You will get three (3) $10 promo eGift card codes. The terms are a bit vague, but as long as you load the codes into a Dunkin app by 1/31/20, you will have $30 in Dunkin credit that does not expire.
(The Starbucks promo from yesterday appears to be expired, but you can now get discounted gift cards from Amazon, including from Starbucks right now.)