The Wall Street Journal has a rather surprising article 401(k) Law Suppresses Saving for Retirement regarding a recent law that allowed employers to automatically enroll their employees into their 401(k) retirement plans. The goal was to encourage saving and make contributing a certain percentage rate the default option for workers, after which they could change the contribution rate to whatever they wanted (even zero). Before now, the default option was usually little more than passing out a brochure.
Auto-enrollment seemed like it was working. More workers than before were using 401(k) plans. The problem was, the default percentage rate for most plans was about 3%. It turns out that for some people that 3% is actually less than the 5-10% than people might have chosen on their own if started from zero. As a result, the study showed that 40% of workers ended up actually saving less after auto-enrollment began. Talk about unintended consequences!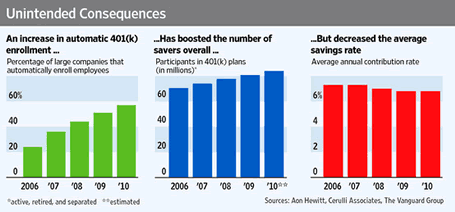 Source: WSJ (Click to enlarge)
Possible reasons include inertia (aka laziness), but I suspect that if a company sets it at a certain percentage, then there can be a subconscious belief that such a number is the "recommended" or "approved" contribution rate. In reality, that 3% appears to be chosen simply to be low enough as to avoid workers opting-out immediately. In other words, much lower than what would be required to fund a proper retirement.
The study noted was done by the Employee Benefit Research Institute, which actually wrote a rebuttal article that focused on the fact that auto-enrollment is increasing the savings rate for many people, especially those with lower incomes. The problem is not with auto-enrollment itself, but more with tinkering with the default contribution rate. Another potential tool is an "auto-escalation" feature that increases employee savings rates by a set amount each year, say 1%, to encourage more savings over time.
When it comes down to it, the study pretty much reaffirms the original conclusion that started auto-enrollment in the first place. Lots of people are too busy, forgetful, uneducated, or scared to make the proper financial decisions for themselves. Don't rely on your employer to decide how much to save for retirement.
Everyone has a different situation, but if you don't have a pension or other significant retirement assets, your overall savings rate is probably going to have to be more than 10% if you expect to replace most of your income upon retirement. The tax advantage of traditional and Roth 401ks is very significant over time. Finally, if you have an employer match available, don't say no to free money!