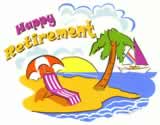 Up until recently, I never really thought about my parents' financial situation. While growing up, they did a really good job of shielding us from their financial worries and setbacks. Looking back, I'm sure there were some tough times.
As my mom and dad start to near retirement age, they've become more open with their finances. They assure me that they are on track for retirement. They know all about the "catch-up" IRA contributions allowed for people over 50 and are taking advantage of them. They've even asked me to look at some of their accounts, like the TIAA-CREF retirement annuity.
As long as they stay healthy, I'm actually pretty confident they will be fine. This is mainly due to the fact that my father loves what he does and plans to work until 70 if not longer. While he does take more vacation time now, I don't think the words "early retirement" are in his vocabulary. Any financial planner will tell you, even delaying retirement for a few years can make a big difference. You delay taking withdrawals so your nest egg gets more time to grow, and your expected withdrawal period is shorter.
But what if they do run into issues, for whatever reason? I know that I'd step in to help for sure. For one, I know that my parents regularly give my grandparents money. I don't know how much or how often, it could be just spending money, but I know they do send something. I guess this is what some people call the "sandwich" problem. Young families have their own retirement worries on one side, their kid's education in the middle, and their parents' needs on the other side.
Do you worry about your parents' retirement plans? Should a child ask their parents about such details or get involved? How does one incorporate this into their own financial plan? Just my Saturday morning musings…